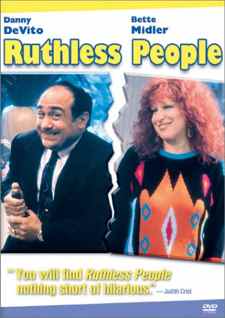 Ruthless People on DVD
From the makers of Airplane! comes this black comedy about a bunch of really nasty people and a couple of really nice ones.
Sam Stone (Danny DeVito) is a philandering millionaire clothing magnate whose shrew of a wife, Barbara (played perfectly by Bette Midler), is kidnapped and held for ransom. Since Sam hates Barbara anyway (he was about to murder her when she's kidnapped) and wants to get rid of her so he can continue his relationship with Carol (Anita Morris), he violates the kidnappers' orders not to go public or to the police and refuses to pay the ransom.
But Carol's also using Sam and, with her idiotic dolt of a boyfriend (Bill Pullman), they're conspiring to screw Sam as well.
These are all brutally ruthless people, and a very unlikable bunch indeed.
The only likeable characters in this movie are Ken and Sandy Kessler, the kidnappers. As played by Judge Reinhold and Helen Slater, these kids are so darn nice that butter wouldn't melt in their mouths. They've kidnapped Barbara out of desperation: Sandy's a clothing designer and Sam stole one of her designs and has used it to get rich, so they want their piece of the pie.
Things unravel for them when Sam refuses to pay the ransom. They don't really want to hurt Barbara, even though she's loud and obnoxious enough to make them think twice about it, so they keep lowering their ransom demand, prompting Barbara to wail that she's being "marked down!"
In the end, those who deserve a comeuppance get it, with a couple of exceptions, and all ends pretty much as it should. But not before you've laughed loudly and long!
If you're expecting the madness of Airplane! or Top Secret!, you'll probably be disappointed. Ruthless People is far more of a traditionally straightforward comedy than those other Abrahams/Zucker/Zucker outings. There are a few sight gags and the like, but for the most part it's a more "serious" comedy (if there is such a thing) from these directors.
That doesn't mean you won't laugh; we bet you will.
The cast is delicious. DeVito and Midler are given every opportunity to chew the scenery, and they not only chew it up but they spit it out again when they're through. Slater and Reinhold are so nice, so likeable - and their characters are so out of their depth - they almost make your flesh crawl. And Pullman, who usually plays romantic lead-type characters or presidents of the United States (ID4, for example), is such a dunderhead you can't help but laugh.
The DVD is pretty good, though not spectacular. It's presented in anamorphic widescreen (16x9 TV compatible) with Dolby Digital Surround sound. Picture quality is very good, and the audio is fine despite not being of the 5.1 surround variety.
There are none of the extras we've come to expect, however, not even a theatrical trailer.
Ruthless People, from Buena Vista Home Entertainment
90 min. anamorphic widescreen (1.85:1), 16x9 TV compatible, Dolby Digital Surround
Starring Danny DeVito, Bette Midler, Judge Reinhold, Helen Slater
Produced by Michael Peyser
Written by Dale Launer, Directed by Jim Abrahams, David Zucker, Jerry Zucker