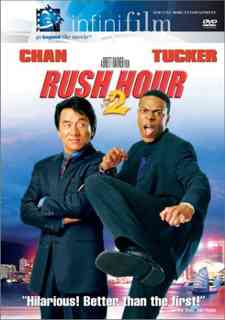 Rush Hour 2
Rush Hour 2, though no masterpiece, gives you exactly what you loved about the first one.
Jackie Chan and Chris Tucker team up again for a different (somewhat) adventure. This time, they're on the trail of a gang of criminals who are planning to steal Chinese artifacts and sell them back to the states.
In the first Rush Hour, Detective Inspector Lee (Chan) was the fish out of water. This time, it's Detective Carter (Tucker) who is out of place. However, instead of coming up with a fresh script, they decided to merely change the setting and reverse the jokes.
In Rush Hour, we learned never to touch a black man's radio. In the sequel, we learn never to touch a Chinaman's radio. By the end of the series, we'll learn just to keep our filthy paws off of radios altogether for fear of upsetting someone.
Rush Hour 2 has nothing new to offer, but stays with the formula of the first. Does this make it a bad movie?
No.
I personally am a big fan of the first film. Chan and Tucker work well together, and have excellent on-screen chemistry. Chan's fight sequences are always impressive and entertaining, and the script is well-written and witty.
It's a good movie for any fan of the action comedy genre. However, if you've seen the original, you may decide to avoid this one, since you've basically seen it already.
The DVD is the latest in New Line's groundbreaking Infinifilm series. Unfortunately, it's not quite up to the standards set by the previous three titles. Thirteen Days, 15 Minutes, and Blow all had some great "Beyond the Movie" features, but Rush Hour 2's seem tacked on, and are quite short.
The audio and video, however, are as good. The 2.35:1 anamorphic widescreen is nice and clear; exactly what you'd expect from an Infinifilm release. The sound, which gives you a choice of 5.1 Dolby Digital or 6.1 DTS, is even better. Action movies always need good sound, and Rush Hour 2 delivers.
The disappointing "Beyond the Movie" features include a Jackie Chan Hong Kong introduction, which runs about two minutes and is just Mr. Chan telling us all to visit his homeland. There are also four other bits that total about 22 minutes, including "Culture Clash: West Meets East," "Language Barrier," "Attaining International Stardom," and "Kung Fu Choreography." Finally, there is an early Brett Ratner student film called "Lady Luck," and the usual Infinifilm Fact Track.
Next up are the "All Access Pass" features. They start with a commentary by director Brett Ratner and Writer Jeff Nathanson. This is a fairly good track, and the two seemingly had fun making the movie. There are also some deleted scenes with optional director's commentary, and some outtakes. Some of the outtakes are different than the ones at the end of the film, but not as good. There are two featurettes: "Making Magic Out of Mire," and "Evolution of a Scene," a short "Fashion of Rush Hour 2" spot, a visual effects deconstruction, and the trailer.
Compared to most, it's a great disc, but not quite up to par with the previous Infinifilm titles.
Rush Hour 2, from New Line Home Entertainment
91 minutes, anamorphic widescreen (2.35:1) 16X9 enhanced, 5.1 Dolby Digital, 6.1 DTS
Starring Jackie Chan, Chris Tucker, John Lone, Alan King, Roselyn Sanchez and Zhang Ziyi
Produced by Arthur Sarkissian, Roger Birnbaum, Jay Stern, Jonathan Glickman
Written by Jeff Nathanson, Directed by Brett Ratner