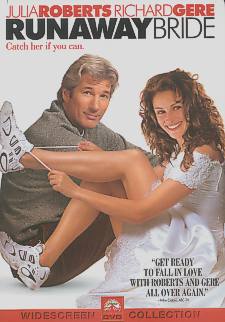 "Runaway Bride" on DVD
Love on the Run
by Jim Bray
The much ballyhooed reunion of director Garry Marshall with stars Richard Gere and Julia Roberts is a sweet romantic comedy with an all-star cast.
Richard Gere is Ike Graham, a jaded newspaper columnist who, like so many real life columnists, makes his living rubbing people the wrong way. After penning a piece on a Maryland town's infamous "Runaway Bride" using fabricated facts, he's fired.
This is where I stopped suspending my disbelief. Real life Columnists regularly refuse to let facts get in the way of their opinions, so I found Gere's editor's reaction (despite the threat of a lawsuit) a bit contrived.
Still, this is a romantic comedy, not an expose of the mainstream media...
To revive his career, he goes to the small town to do the real story on this runaway, Maggie Carpenter (Roberts) - who's currently engaged for the fourth time with the wedding pending. Graham hangs around, wriggling his way into the town's life and gaining the confidence of its people - much to Maggie's chagrin.
Naturally, they fall in love and Maggie dumps her fiance for Graham, basically replacing one groom at the planned wedding with another.
So does true love triumph? Does Maggie run away yet again? Can a crusty big city columnist find truth and happiness in the boonies?
The story is charming, and the characters really do experience growth over the course of the movie. Sure, it's basically a "chick flick," but it's a good one. There's terrific chemistry between Roberts and Gere and while both characters have their problems, at heart they're basically decent people about whom you can care.
The terrific supporting cast is made up of journeyman actors like Rita Wilson, Hector Elizondo, Joan Cusack and Paul Dooley. Watch for some other familiar faces as well, both in New York and Maryland.
The DVD is only in widescreen, enhanced for 16x9 TV's, and that's fine with me. Picture quality is excellent - and the Dolby Digital 5.1 soundtrack is used well. Audio quality is also first rate, and director Marshall makes good use of a variety of songs - which are reproduced with wonderful audio fidelity - to enhance the musical score.
Extras include a running commentary courtesy of director Marshall, and the inclusion of a Dixie Chicks music video. You also get chapter stops, and the trailer.
Runaway Bride is lightweight and light hearted, and on those levels it works very well.
Runaway Bride from Paramount Home Video
116 minutes, Widescreen (2.35:1), Dolby Digital
Starring Julia Roberts, Richard Gere, Joan Cusack, Hector Elizondo, Rita Wilson, Paul Dooley
Produced by Ted Field and Tom Rosenberg, Scott Kroopf and Robert Cort, Screenplay by Josann McGibbon & Sara Parriott
Directed by Garry Marshall