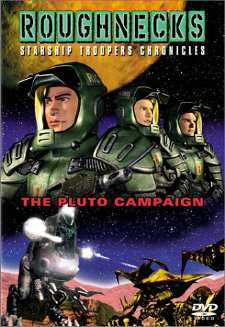 "Roughnecks: Starship Troopers Chronicles - The Pluto Campaign " on DVD
Kiddie Fare
Based on the Paul Verhoeven film "Starship Troopers," which in turn was loosely based on Robert A. Heinlein's classic science fiction novel of the same name, this is a computer-animated kids' series that's obviously designed for children.
Razak's Roughnecks is a unit of the Mobile Infantry and its cap troopers have been sent to Pluto to wipe out what they think is a small infestation of enemy bugs. Once there, however, they find there are a lot more bugs than they'd thought, and are thrown into the battle of their lives.
The DVD actually contains multiple, but connected, episodes from the TV series and they're edited together seamlessly into a single adventure.
Unfortunately, "Roughnecks" means well, and it tries hard, but its kiddie target means that is has to work overtime not to be offensive to anyone. This takes any edge from the production and we end up with sanitized violence and sex that really detracts from the Starship Troopers concept.
Not that we're against toned down sex and violence for kids, and we freely admit that Paul Verhoeven (who is attached to this production as well) could use a little toning down at times. It's just that, if Heinlein's Starship Troopers is emasculated like this, it really becomes an empty shell, and that's the bottom line for "Roughnecks."
That said, the computer animation is pretty good considering a TV show's budget.
The DVD is in fullscreen, and the picture and Dolby Digital audio quality are very good. Extras include a photo gallery of sorts.
Roughnecks: Starship Troopers Chronicles - the Pluto Campaign, from Columbia Tristar Home Video
97 min, Full Screen, Dolby Digital 5.1
Produced by Audu Paden,
Written by Duane Capizzi & Marsha F. Griffin, co-directed by Keven Kipper, PJ Foley, Michael Stetson, Dave Morton.