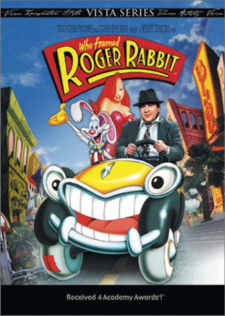 Who Framed Roger Rabbit on DVD
By Jim Bray
Robert Zemeckis' classic and innovative blend of live action and animation has been given a terrific new life on DVD, thanks to this VISTA series disc from Touchstone Home Entertainment.
It's a deluxe, 2 disc set aimed at videophiles and "families" alike, with two full versions of the film (one in anamorphic widescreen and one in Pan&Scan) and enough extras to choke a, well, rabbit.
Bob Hoskins is great as Eddie Valiant, a boozed up loser who used to be a respected private eye. He had been working the Toontown beat, and it was a lot of laughs until some looney toon killed his brother by dropping a piano on his head.
When the movie opens, Valiant is hired by R. J. Maroon, owner of the cartoon-producing Maroon Studios. Maroon's star toon, Roger Rabbit (voiced by Charles Fleischer), can't keep his mind on his work (he's so distracted he can't even see stars when the script requires it after he's bonked on the head), and Maroon hires Valiant to snap some incriminating pictures of Roger's wife Jessica (voiced by Kathleen Turner) playing around on him.
Eddie catches Jessica playing pattycake with Marvin Acme, the gadget king (whose best customer was undoubtedly Wile E. Coyote, though not in this movie) and the pictures shatter Roger. He vows that he and Jessica are going to be happy one way or another, and disappears over the horizon.
When Acme is killed (a safe dropped on his head - clearly a toon strategy) and paint from a toon's glove is found at the murder scene, Roger is implicated and the manhunt, well, toonhunt, begins – led by the ominous Judge Doom (Christopher Lloyd) and his band of weasel henchtoons.
Roger's innocent, of course (otherwise the movie would have to be retitled!), and Valiant – who refuses to work for toons – is drawn into the mystery against his will.
And while he does solve the mystery, it isn't before we're treated to nearly two hours of good humored mayhem the type of which only toons are capable. It's a hilarious ride, with great lines and wonderful animated antics that even spill over to the "real" world where toons live side by side with people.
The blend of live action and animation is remarkable, the action is ludicrously delicious, and the performances, from Hoskins and the other live actors to the many, many classic cartoon characters (most of whom feature their original voice talent), are just as over the top as they should be. Zemeckis' direction (and this must have been one heck of a tough movie to make!) sparkles as he never loses control of the proceedings despite the mayhem around him.
I've seen this movie many, many times; it's one of my "desert island movies" and I never get tired of it. I've been waiting with baited breath for a good DVD version of it, and Touchstone hasn't disappointed with this THX-certified two disc set.
As a video snob, I obviously preferred the "enthusiast" version with its anamorphic widescreen picture. It's on disc two, and the picture quality is almost uniformly first rate. The color is terrific and the detail is sharp – so much so that you might sometimes think you see the seams, but I'll bet you can't. The audio, which gives you the choice of Dolby Digital 5.1 or dts surround, is probably the weakest part, but you can't blame this new DVD for that: the distortion I could pick out on the DVD soundtrack was there when I saw Roger in the theaters and on Laserdisc. It usually happens when things get their loudest and most raucous; otherwise, the audio quality is wonderful – particularly Jessica Rabbit's song when she performs at the Ink and Paint Club.
Disc Two also features a gang commentary with director Zemeckis, producer Frank Marshall, screenwriters Jeffrey Price and Peter Seaman, Associate Producer Steve Starkey, and ILM special effects guru Ken Ralston. Talk about an animated discussion! You also get a deleted scene (and I'm glad it was deleted because it slows down the movie) with commentary, "Before and After" split screen looks at the film with and without the animation, a very good behind the scenes documentary, looks at the toons' "standins" used during filming, an interactive, set top gallery "The Valiant Files" and lots more.
Much of this material isn't anamorphic, which is a shame, but it's still nice to have.
Disc 1, which is labeled "Family Friendly," is where you'll find the Pan&Scan version of the film. It also includes a set-top game "Trouble in Toontown", a 10-minute "Who Made Roger Rabbit" featurette on the making of the film (hosted by Charles Fleischer) and – a great bonus despite the fact that I like Roger's movie a lot more than his cartoons, you get all three Roger Rabbit shorts.
The Pan&Scan version of the film only gives you Dolby Digital 5.1 for audio, but that's okay.
Also in the package is a coupon for Chuck E. Cheese's tokens (joy!), a $5 rebate coupon for those who bought the non-anamorphic DVD released earler (assuming you kept the receipt!), a little boolket, and portraits of Roger and Jessica Rabbit.
I'm getting to be a big fan of these Vista series discs and look forward to seeing many more such versions of classic Disney titles.
Who Framed Roger Rabbit, from Touchstone Home Entertainment,
104 min. anamorphic widescreen (1.85:1), 16x9 TV compatible, Dolby Digital 5.1 and dts surround / Pan&Scan (not 16x9 TV compatible), Dolby Digital 5.1 surround
Starring Bob Hoskins, Christopher Lloyd, Charles Fleischer, Joanna Cassidy
Produced by Robert Watts and Frank Marshall
Written by Jeffrey Price & Peter Seaman, Directed by Robert Zemeckis