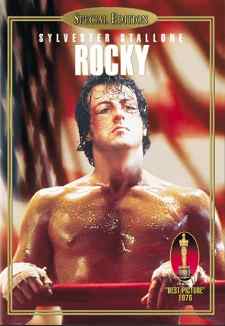 "Rocky" on DVD
Punchy Drama
Rocky was the film that made Sylvester Stallone who he is today. It also won the Oscar for Best Picture of 1976, and we can see why.
It's the story of a small-time boxer who gets the chance of a lifetime when the world champion (Carl Weathers) decides to box an unknown in a marketing scheme billed as a celebration of the US Bicentennial.
Rocky Balboa (Stallone) is the lucky stiff chosen, and he takes the opportunity to reach for the brass ring. It's his chance to be a contender, not a bum, to steal from another great film, and he starts a training regimen he hopes will allow him to go the distance against overwhelming odds.
Along the way he finds love and fulfillment, and even the respect of those around him.
Rocky isn't the most articulate of people, but he has a good heart and a good mind that, until his Big Opportunity comes along, were destined to be trapped in a life of lower class mediocrity.
Stallone, who also wrote the screenplay, does an outstanding job as Rocky. He's tough, yet vulnerable, and we can understand why he was nominated for Best Actor. Other Oscar nominations went to Talia Shire (Best Actress), who plays Rocky's girlfriend, and Burgess Meredith (Rocky's trainer) and Burt Young (Rocky's friend), who were both nominated for Best Supporting Actor.
The fight scene that climaxes the movie is terrific. Though by no means a fight fan, this reviewer found the choreography, filming and performances drew him into it so that it almost feels as if you're in the ring during this battle of the titans.
According to one of the behind the scenes featurettes, this was deliberate on the part of director John G. Avildsen, and he should be applauded for ensuring that this, the most important scene in the film, came off realistically.
Mention should also be made of Bill Conti's uplifting score. It's unfortunate now that the Rocky theme is so well known that when you hear it in the movie you almost dismiss it, because it really does soar - and take you with it.
The DVD is in widescreen, 16x9 compatible, with Dolby Digital 5.1 surround audio. The audio and video are a little soft, but only a little, and it doesn't detract from one's enjoyment of the movie.
There are plenty of extras on hand, including a total of three featurettes, a running commentary featuring the director, producer, and two of the stars, a video commentary from Sylvester Stallone, a collectible booklet (well, pamphlet) inside the box, trailers, ad materials, and more.
Rocky, from MGM Home Video
119 min, widescreen (1.85:1), 16x9 TV compatible, Dolby Digital 5.1
Starring Sylvester Stallone, Talia Shire, Carl Weathers, Burgess Meredith, Burt Young,
Produced by Robert Chartoff and Irwin Winkler
Written by Sylvester Stallone, Directed by John G. Avildsen.