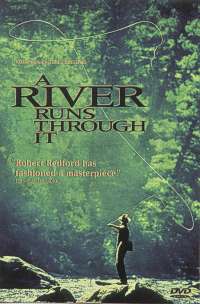 "A River Runs Through It" on DVD
Family Ties that Bind
Columbia Pictures' DVD of Robert Redford's acclaimed 1992 movie doesn't offer a lot of the extras one comes to appreciate with the digital disc format, but it's a warm and charming movie nonetheless that features wonderful performances from a journeyman cast.
The story is set in pre-1930's Montana and is gloriously shot on location in the foothills of the Rocky Mountains about three hours' drive south from where this review is being written. This setting, which is duplicated about half an hour West of TechnoFILE's headquarters, seriously prejudices our impartiality (assuming that we have any to begin with!) and we feel obliged to state so up front - since these magnificent locations are one of the reasons we chose to set up shop here.
So we're suckers for the landscape and feel obliged to prattle on about how the movie looks simply marvelous, and how Elmer Bernstein's Oscar-nominated score, Redford's framing of shots and DOP Philippe Rousselot's cinematography enhance the views beautifully.
Anyway, Craig Sheffer and Brad Pitt star as brothers Norman and Paul Maclean, sons of a Presbyterian minister (Tom Skerritt, in a great characterization), whom the movie follows from a very young age to "courtin' age."
Skerritt's passion, besides preaching, is fly fishing - an appetite he passes on to his sons. The peaceful and gracefully reflective solitude of fishing is central to the movie, and in fact is one of the reasons Paul (Pitt) chooses never to leave Montana, even after his brother suggests he accompany him to Chicago to pursue his journalism career there.
This isn't a movie that will appeal to action fans, but it will tug at the hearts of romantics (whether of the "boy/girl" type or of the "old fashioned movie" type) everywhere. Redford, and screenwriter Richard Friedenberg (working from Norman Maclean's own story) has done a nice job of crafting characters for whom we can feel affection despite their all-too-human flaws.
It's a more innocent time and, in many ways, a more honest time - an age in which people weren't obsessed with self delusion and self gratification - and where many strove toward a higher purpose. Director Redford has captured the era wonderfully in "A River Runs Through It," and for that he should be applauded.
Not as worthy of applause is his politically correct rant in the closing credits, wherein he exhorts viewers not to fish unless they're going to "catch and release" in the manner of modern, enlightened fishermen (or, in 1990's parlance, "fishers"). He's referring to, we must assume, people who release their catch back into the wild and then sally forth to Safeway or Von's to buy their fish dinners, smugly happy in the knowledge that they've done well by Person Nature - blissfully unaware (or uncaring) of their hypocrisy in getting other people to do their dirty work for them..
But we digress. Hey, we can rant, too, especially in the interest of equal time for opposing views (whether we happen to agree with them or not).
Despite that bit of irrelevant and politically correct pap (which, to be fair, Redford does admit in the beginning of the rant wasn't in the minds of those in the time of "A River Runs Through It"), it's a good film overall.
The DVD is offered in both widescreen and Pan&Scan, on opposite sides. Picture quality is very good, though not as good as some DVD's we've reviewed (it's a bit soft). Audio is Dolby Pro Logic Surround and, though there isn't a lot of surround, the audio quality itself is fine. The only extras include a good liner essay, minimal talent files, theatrical trailers (this film and other Brad Pitt films), chapter stops, and the usual language/subtitle choices.
A River Runs Through It, from Columbia Tristar Home Video
124 minutes, Widescreen (1.85:1)/Pan&Scan, Dolby Pro Logic Surround
Starring Craig Sheffer, Brad Pitt, Tom Skerritt, Brenda Blethyn and Emily Lloyd
Produced by Robert Redford and Patrick Markey, Screenplay by Richard Friedenberg
Directed by Robert Redford