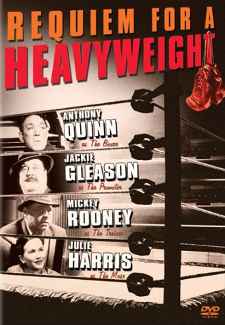 Requiem for a Heavyweight on DVD
Originally a Playhouse 90 TV drama starring Jack Palance as a punch drunk has been, Rod Serling's script was made into a compelling drama in 1962.
Anthony Quinn is simply outstanding as Mountain Rivera, who at film's opening is being pummeled in no uncertain way by a young and upcoming Cassius Clay (played in an uncannily realistic manner by a young Muhammed Ali). This opening scene is shot mostly in a point of view mode making the audience see the action from Rivera's perspective - and a pretty sight it isn't.
When he's taken back into the dressing room after the ordeal ends, his manager Maish (Jackie Gleason) is told in no uncertain terms by a fight doctor that if Rivera takes one more punch it could disable him permanently. After 17 years as a contender and human punching bag, it's time for the Mountain to become a molehill.
Meanwhile, Maish has run afoul of some criminal types he'd assured that Rivera would only last a few rounds, whereas the Mountain went almost twice as long in the ring as the wagers had said - leaving them as sore losers who expect Maish to cover their losses. Unfortunately, Maish also bet against his client and best friend, and so has no money to pay back.
Faced with finding a new career for the boxer, Rivera's trainer (Mickey Rooney) takes him to an employment agency where he meets a kind counselor (Julie Harris) who gets him an interview for a position of camp counselor - a chance for a new beginning.
But Maish has other ideas. He still wants a piece of the Mountain and arranges for him to become a pro wrestler - a paying job but a complete humiliation for the proud and loyal Rivera.
The cast is incredible, especially Quinn but also Gleason, Rooney and Harris, the latter of whom shines as she brings a ray of hope into the darkness of Rivera's situation. Gleason and Rooney have a perfect "good cop, bad cop" relationship; Rooney cares for Rivera and wants what's best for him, whereas Gleason exploits Rivera's loyalty and decency for as much personal gain as he can get out of the relationship (which, as it turns out, isn't much).
But this is Anthony Quinn's movie and he deserved an Oscar nomination for his heartbreaking performance as the washed up fighter who doesn't know how to do anything else. He didn't get one, unfortunately, and that's a shame. His Mountain Rivera is good at heart, but slow of wit after so many shots to the head. Quinn plays him straight, with thick and slurring tongue and cauliflower ear (courtesy of makeup star Dick Smith), and you can almost see the wheels turning ever so slowly as his brain tries to function.
Neither did Rod Serling, also of Twilight Zone and "Planet of the Apes" fame, get a nod for his powerful and moving script. Having done a search of an Oscar database, it was one heck of a year for great films and so this might explain the oversights, but it's still a shame.
The DVD is excellent as well. Presented with digitally mastered (in HD) anamorphic widescreen (16x9 compatible with Pan&Scan also offered on the same side of the disc) video, the black and white picture is sharp and clean and - deliberately -shadowy.
Audio is Dolby Digital mono and the quality is okay. This is no high tech audiophile remastering, but it doesn't matter and, as so often happens with DVD's of this vintage, the resulting audio quality almost lends a kind of documentary feel to the story.
Extras are limited to some bonus trailers.
Requiem for a Heavyweight, from Columbia Tristar Home Video
86 min. anamorphic widescreen (1.85:1), 16x9 TV compatible/ Pan&Scan, Dolby Digital mono
Starring Anthony Quinn, Jackie Gleason, Mickey Rooney, Julie Harris
Produced by David Susskind
Written by Rod Serling, Directed by Ralph Nelson