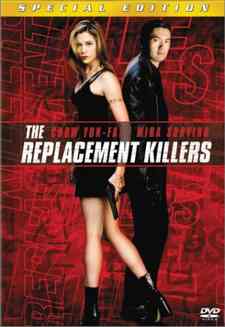 The Replacement Killers, Special Edition, on DVD
Chow Yun-Fat's American movie debut is little more than a shoot 'em up, with whatever story there is submerged into numerous hails of bullets.
Not that that's necessarily a bad thing...
Chow Yun-Fat is John Lee, a hired killer who develops a decent streak and refuses to go through with his latest assignment. This puts him at odds with Mr. Wei, the ruthless crime boss who hired him, endangering the lives of his wife and kids hiding in China.
In order to save his family, Lee needs to enter China, which means he needs a passport. This brings him to the home office of one Meg Coburn (Mira Sorvino), a talented forger who's just what the doctor ordered. But before she can create the fake papers, Wei's new assassins (the replacement killers, perhaps?) show up and fill the place full of lead.
Lee and Coburn escape, fortunately, otherwise this would be an even shorter movie than it is. As they shoot their way through the rest of the movie they form the expected bond, and by movie's end they're each the unofficial presidents of each other's mutual admiration society.
The Replacement Killers is mostly about ordnance, and the movie expends thousands of rounds of ammunition and destroys several interesting and/or unusual (for a gunfight) locations. The action is believably staged and shot and takes up about three quarters of the film, leaving little room for plot and characterization.
What story there is is pretty good, though we wonder about the believability of a hired assassin who suddenly develops a conscience. Still, despite the plot being sandwiched in between bouts of mayhem, the characters are reasonably three dimensional and the actors bring them to believable life. Chow Yun-Fat is very good as the suddenly noble killer, as is Sorvino as the small time crook who suddenly finds herself over her head and in the fight of her life.
The supporting cast, including Jurgen Prochnow and Michael Rooker, also turn in credible performances as, respectively, a cold blooded baddie and a dedicated cop.
The special edition DVD is excellent, probably better than this basically lightweight movie really deserves. The picture is presented in digitally mastered anamorphic widescreen (16x9 TV compatible) and it is superb. Audio is Dolby Digital 5.1 and they've spent considerable effort ensuring you can feel the concussion caused by the firearms - and you do. There's good balance between ammo, dialogue and music, and good use of the surround channels.
There aren't as many extras as there are on some Special Editions, but what you get are pretty good. Extra features include a running commentary by director Antoine Fuqua and a couple of interesting featurettes on the star and the production. There's also a selection of deleted scenes, an alternate ending we won't spoil for you here, trailers, filmographies, etc.
The Replacement Killers, Special Edition, from Columbia Tristar Home Video
88 min. anamorphic widescreen (2.35:1), 16x9 TV compatible, Dolby Digital 5.1 surround
Starring Chow Yun-Fat, Mira Sorvino, Michael Rooker, Jurgen Prochnow
Produced by Brad Grey and Bernie Brillstein
Written by Ken Sanzel, Directed by Antoine Fuqua