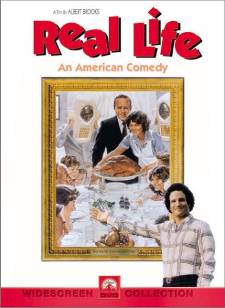 "Real Life" on DVD
Survivor, Springer, and Truman - First
Albert Brooks first came to mainstream prominence doing short films for Saturday Night Live during the show's first heyday of the 1970's. Real life, his first full length film, is his prescient look at reality TV and how unreal it can be.
Brooks' stars as Albert Brooks, who hatches a scheme to film the everyday life of an American family over the period of a year. The idea was actually tried in the 1970's on the US Public Broadcasting System, but Brooks takes the idea and lampoons it, Hollywood, psychology, pretention, and himself - all in the space of 98 minutes.
His ordinary family is the Yeagers, headed by Charles Grodin's Warren Yeager, a veterinarian who, it turns out, isn't nearly as good as he should be or as good as he thinks he is. His wife and kids are along for the ride, allowing the intrusion of the special (and hilariously designed) movie cameras into their every mood and experience.
Of course things don't work out as planned, for anyone involved, and the project ends up making a shambles of the lives of, well, everyone involved. Even the experts involved end up as video roadkill in this examination of the ridiculousness of trying to make a piece of cinema verity when no one can really be themselves when there's a camera pointed at them.
The humor is dry and often subtle, and sometimes it seems as if the film's going nowhere. It ends up being a terrific satire of life, the American dream, and much, much more.
Grodin is good as the put upon vet, as is Frances Lee McCain as his wife. Brooks is the real star, however and he really makes the movie - as he makes the movie.
The DVD is presented in 16x9 widescreen, enhanced for widescreen TV's. Video quality is a touch grainy, but it actually enhances the "cinema verity" look and feel for which the movie is trying. Audio is Dolby Digital mono and is fine. This isn't a surround sound spectacular, so it doesn't really matter that the sound hasn't received any updating or multi-channel remastering.
Extras are limited to an interview with co-writer/director Brooks (and it's a good one), and the trailer.
Real Life is a slice.
Real Life, from Paramount Home Video
98 minutes, Widescreen (1.85:1), enhanced for 16x9 TV's, Dolby Digital Mono
Starring Albert Brooks, Charles Grodin, Frances Lee McCain, J. A. Preston, and Matthew Tobin
Produced by Penelope Spheeris
Written by Albert Brooks, Monica Johnson, and Harry Shearer, Directed by Albert Brooks