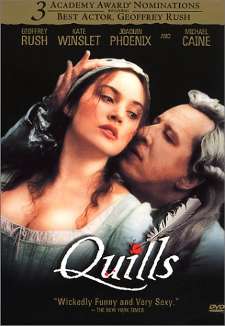 "Quills" on DVD
The Write Stuff?
Philip Kaufman's "Quills" is a lush period piece that clearly illustrates the old saw "the pen is mightier than the sword."
In this case, the pen - er, quill - belongs to the Marquis de Sade (Geoffrey Rush), who's incarcerated in a Napoleon-era French insane asylum from where, with the help of a winsome laundry maid (Kate Winslet), he writes pornographic literature.
Madeline (Winslet), along with much of the lower class, is fascinated and aroused by de Sade's scribblings, and she smuggles them out of the asylum for him, passing them on to a publisher's representative and returning to him the financial rewards of his popular prose.
The writings are scandalous to those in the upper crust, however, and Napoleon himself is convinced to dispatch noted doctor Dr. Royer-Collard (Michael Caine) to ensure that the Marquis is cut off from the outside world.
De Sade won't be kept from writing, however. He has all this stuff inside him, bursting to get out and he refuses to be shut up. When his quills and ink are taken away, he writes in wine, when his wine is taken away, he writes in his own blood - and so on.
We're left to wonder if the Marquis is a truly driven writer (despite that fact that, while popular to the mainstream, they're judged to be of very poor written quality) or is just a man who likes to poke the establishment in the eye with a pointy stick. This question is never really answered, and that's okay. There's plenty of other stuff going on to keep the audience thinking, interested, and more than a little shocked.
In the end, the film is basically about freedom of expression, but it isn't a blanket endorsement of it: as with any freedom, this one comes with a price tag.
Rush was nominated for the Best Actor Oscar for his performance as the not-as-mad-as-made-out Marquis, and he deserved it. Winslet is also very good as the laundry maid whose experiences with de Sade are her escape from her mundane real life. Caine turns in his usual journeyman performance as the hypocritical doctor, and Joaquin Phoenix is excellent as Abbe Coulmier, the catholic monk who runs the asylum and, though he lusts and longs for the delicious Madeline, never allows his body to take control of his soul.
Quills isn't really a pleasant or fun movie, but it's definitely intriguing and it sweeps you along to its rather painful climax. The period is captured very well, too, thanks in no small part to its Oscar-nominated Art Direction.
The DVD is in anamorphic widescreen, 16x9 TV compatible, with Dolby Digital 5.1 audio. The video and audio quality are excellent. There isn't a lot of surround sound information, though when it's used it's very effective - especially Kaufman's trick of putting an annoying buzz in the rear speakers at certain times when he wants to make you squirm.
Extras include a screenwriter's commentary, three featurettes, a gallery of still pictures, as well as the trailers and TV spot.
Quills, from 20th Century Fox Home Video
124 min. widescreen (1.85:1), 16x9 compatible, Dolby Digital 5.1
Starring Geoffrey Rush, Kate Winslet, Joaquin Phoenix, Michael Caine
Produced by Julia Chasman, Nick Wechsler, Peter Kaufman
Written by Doug Wright, Directed by Philip Kaufman.