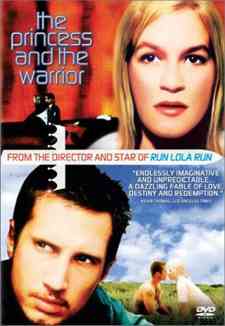 Princess and the Warrior on DVD
Director Tom Tykwer and star Franka Potente reteam in this atmospheric German language drama about a woman drawn to a man whose inner ghosts have turned him into a small time thug and bank robber wannabe.
Potente is a nurse who works in a mental clinic when her life crosses that of Bodo (Benno Fuhrmann) the abovementioned tortured man. Their happenstance meeting is due to a traffic accident that sees Potente run over and, lying under the transport truck that hit her, unable to breathe. Bodo saves her life with a quick piece of amateur surgery, then is gone - and after many weeks of healing Potente returns to work in good health physically but haunted by the man who saved her life. Was it fate that brought him to her?
She's determined to find out. And she does manage to track the man down, only to be rebuffed in no uncertain terms. But fate brings them together again, during Bodo's bank robbery gone wrong, leading her to offer him life saving sanctuary in the hospital where she works.
This is a slow moving film, despite the fact that it has plenty of action like chases and gunplay, and though we had trouble getting into it there are definite reasons to stick it out.
For instance, while the liner notes are exceedingly misleading (this is not spellbinding, nor is it really a romantic drama, and nor will it leave you breathless) this is a beautifully staged and shot film, a real work of art. Some of the shots remind us of Welles or Coppola, in fact.
So while we had trouble getting into it, we liked what we saw and heard, at least from a technical standpoint. There are some great shots, marvelous scene transitions, and a terrific soundtrack.
The DVD is presented with digitally mastered anamorphic widescreen video, 16x9 TV compatible, with the German language soundtrack in either Dolby Digital 5.1 or Dolby Surround audio. Unfortunately, while the picture is generally excellent, with wonderfully rich color, we also noticed many digital artifacts that manifested themselves in "stairstep" jagged edges and video noise.
The audio is excellent, however.
Extras include a director/cast commentary, a director-only track, and a "making of" feature. You also get some deleted scenes, music videos, filmographies and the trailer.
Princess and the Warrior, from Columbia Tristar Home Video
133 min. anamorphic widescreen (2.35:1), 16x9 TV compatible, German Language Dolby Digital 5.1
Starring Franka Potente, Benno Fuhrmann, Joaquim Krol, Lars Rudolph
Produced by Stefan Arndt and Maria Köpf
Written and directed by Tom Tykwer