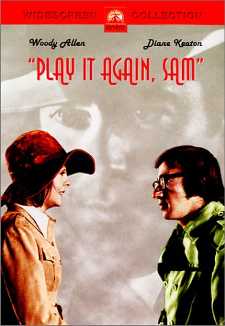 Play It Again Samon DVD
Woody's Allan a Comic Gem
One of Woody Allen's first and best efforts, Play it Again Sam is based on Allen's stage play of the same name - but directed on film not by Allen himself but by Herbert Ross.
It's the story of a film fan (Allen) who's a loser with women - even his own wife has just left him and he's beside himself trying to be attractive to the opposite sex. It's all to no avail, alas, until his overactive imagination conjures the spirit of Humphrey Bogart, who pops up repeatedly during the film to offer Allan advice on what to do and when to do it in order to succeed with whatever woman he's with at the time.
Allan doesn't listen most of the time, but when he does it works out as he would have hoped - then blows up in his face.
Allan's best friends Linda (Diane Keaton) and Dick (Tony Roberts), a married couple, also do their best to help him in his love life. But Dick is just too busy (his running gag of phoning in his current phone number is funny - but wouldn't work now in this day of cell phones and voice mail) and Linda is, well, Linda is really a kindred spirit to Allan and that raises complications of its own.
This is a classic comedy of days gone by. The laughs come from the situations or, as is often the case, from Woody Allen's one liners, not from bathroom humor or profanity (though there's a bit of both, it's done with class and relative innocence).
One of the best lines is, not surprisingly, Allan's. When discussing his culinary talents he mentions having made stroganoff recently. Linda asks him how it tasted, to which he replies that he doesn't know because it's "still on the wall." Must have been a kitchen masterpiece - or did something else happen on that date that caused the food to hit the wall instead of hitting the spot?
The cast looks so young here! Allen and Keaton (this was their first onscreen pairing) are particularly so full of life they nearly leap from the screen. Their chemistry is palpable, and when they're on the couch together and he's taking Bogie's advice on how to win her, there's a charge in the air you can really sense.
The DVD is pretty straightforward, but that isn't necessarily a bad thing. The video is anamorphic widescreen (16x9 TV compatible) and it looks terrific. The audio is Dolby Digital mono, and it's about as good as one can expect. There are no extras, however, not even the theatrical trailer.
If you're a fan of Allen's later works, try out this DVD to see him in a funnier, more innocent age.
Play It Again Sam, from Paramount Home Video
85 min, anamorphic widescreen (1.85:1), Dolby Digital mono
Starring Woody Allen, Diane Keaton, Tony Roberts, Jerry Lacy and Susan Anspach
Produced by Arthur P. Jacobs
Written by Woody Allen, Directed by Herbert Ross.