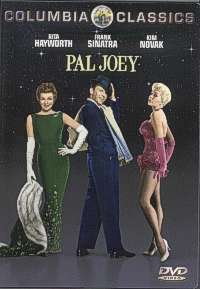 "Pal Joey" on DVD
Bewitching Musical
Columbia Classics' "Pal Joey" is a relatively minor musical in the Hollywood galaxy, but it's an entertaining film with good performances from some heavyweight stars and some nice music from Richard Rogers and Lorenz Hart.
Joey (Frank Sinatra), is a small-time club singer who has two major problems: his attitude, and dames. Mostly dames - and we aren't talking about females who've been knighted by the Queen.
Joey loves women and women love him back. He opines that there are two types of women - ladies, and dames - and that you should treat ladies like dames and vice versa if you're to be successful with them.
His record here speaks for himself. He quickly has every woman in the club - with the exception of one - eating out of his hand. The one (Kim Novak) is a classy girl with dreams of stardom and initially Joey's "charm" is lost on her.
Joey's other major conquest in "Pal Joey" is the wealthy socialite widow ex-stripper (Rita Hayworth), who he convinces to bankroll his dream of opening his own night club. Things go along smoothly until Hayworth decides her life would be better without Novak hanging around Sinatra and decides she should be gotten rid of.
It's all fairly standard stuff, but the production values are as good as the performances, and songs like "Bewitched, Bothered and Bewildered" and "The Lady is a Tramp" can't help but make you glad you came. Sinatra is good as Joey, Hayworth's sexy portrayal of Joey's "Sugar Momma" is full of upper crust sensuality, and Novak appears almost virginal in her role as the "other woman."
The DVD is in widescreen and Pan&Scan on opposite sides and the picture quality is great. Audio is Dolby digital mono, from the two main speakers, and it sounds very good. Extras are limited to some talent info, an interesting trailer featuring the Chairman of the Board himself as host, "vintage" advertising in the form of theater lobby one sheets, and a bonus trailer for "The Loves of Carmen."
While "Pal Joey" isn't up to the "BIG" standard of such classic Hollywood musicals as Oklahoma!, The Music Man, Oliver, or My Fair Lady, it's still a pleasant movie experience fans of this genre and these stars will undoubtely enjoy.
Pal Joey, from Columbia Tristar Home Video
109 minutes, Widescreen (1.85:1)/Pan&Scan, Dolby Digital mono
Starring Rita Hayworth, Frank Sinatra, Kim Novak
Produced by Fred Kohlman, Written by Dorothy Kingsley,
Directed by George Sydney