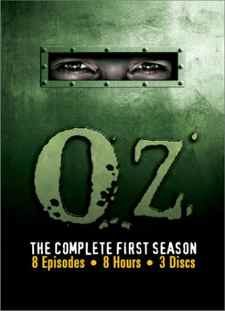 Oz: The Complete First Season
Oz is one of those TV shows that stirred up controversy when it first came on the air, due to its graphic content and mature subject matter.
In many cases, that's how you know it's going to be a good show.
Oz takes place in Emerald City, an experimental unit of the Oswald Maximum Security Prison (or "Oz"). It interweaves a whole whack of characters and storylines, and does so very effectively.
In the first episode (called "The Routine"), we get a look at how things work at Oz, and we meet a few of the more important characters. In subsequent episodes, each character's story (or stories) is told in more detail, and many of them are connected in one way or another.
There are advantages and disadvantages to the way the stories are told. It never spends more than a few minutes at a time on each character, which ensures that you don't get bored. However, by the time it gets back around to that character, you may have forgotten who he is, why he's there, or what his story is.
The thing I find most appealing about the show is that it's not afraid to be what it is. There's a lot of profanity, some brutal violence, and even some nudity. A lesser show would be written in such a way that you would never have to be subjected to such brutality and profanity, whereas Oz realizes that such things add to the show. Though I've never been to a prison before (but who knows, the day is young…), I imagine they're not the most pleasant places to be.
The show, executive produced by Barry Levinson, is written by Tom Fontana and stars an ensemble cast that includes Ernie Hudson, Terry Kinney, Edie Falco, Leon, Lee Tergesen and B.D. Wong.
Oz may not be the best show out there, but it's definitely unique and worth checking out. If you go in with an open mind, and aren't afraid of a little "mature subject matter," you just may enjoy it.
HBO and Warner have done an excellent job in bringing the first season to DVD. The picture is presented in 1.33:1 full frame (which means you'll have to stretch or zoom it to fit a widescreen TV), and looks pretty good for a TV-originating show. It's a bit grainy, but I suspect that may be what the makers wanted. This is the kind of show where a slightly underdone picture can actually enhance the feel of the show itself, so I personally didn't have a problem with it.
The sound, which comes in 5.1 Dolby Digital, is better done than some of the movie DVDs coming out. The surrounds are very well used, especially for sound effects, and it makes you feel like you're right there in jail - though I don't suppose that's really a good thing, all things considered.
But you know what I mean…
Extras include two audio commentaries; one by creator/writer Tom Fontana, and the other by actor Lee Tergesen (who plays Beecher). There are some good deleted scenes (with optional Fontana commentary), a music video, featurette, and episodic previews.
Oz: The Complete First Season, from Warner/HBO Home Entertainment
451 minutes, 1.33:1 full frame, 5.1 Dolby Digital
Starring Ernie Hudson, Terry Kinney, Edie Falco, Leon, Lee Tergesen and B.D. Wong
Created by Tom Fontana
Executive Produced by Barry Levinson, Tom Fontana
Written by Tom Fontana