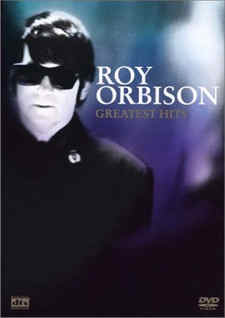 Roy Orbison Greatest Hits on DVD
Here's a fine tribute to the Late Great Roy Orbison!
It's a series of live performances culled from sources around the world over the course of Orbison's long career. The collection offers a great look at the tunes - and the incredible voice - of this musical innovator.
Unlike the popular "Black and White Night," which was more or less an all star tribute to Orbison, this is more Orbison himself - though there are "Black and White Night" tracks included.
So we get Orbison and his own backup musicians performing most of his biggest hits. The video and audio quality vary, which isn't surprising considering the varying sources. Some of the audio, mostly the newer stuff, is just fine, while other times it suffers from its source material. Likewise, sometimes we get digital surround sound while other times we get only mono.
But you know, that works to the disc's advantage, putting the era of the performances into perspective. What we mean is, while it's nice to have state of the art audio and for older audio to be restored and remastered, there's a neat "time capsule" quality to the unadulterated original - and even the oldest stuff here has been made seemingly as good as possible so that we'd have to judge the overall sound quality as very good - and in places, excellent.
Oh, there's also some nifty commentary by Orbison himself between tracks and some original into material from TV performances.
Here's a track list of the main live performances:
Go Go Go (Down the Line),
In Dreams,
Blue Bayou,
Ooby Dooby,
Only the Lonely,
It's Over,
Claudette,
That Lovin' You Feeling Again,
You Got It,
Crying,
Walk On,
Running Scared,
Oh Pretty Woman
Then there are the extras, which include music videos of "She's a Mystery to Me" and his great duet of "Crying" with k.d. lang.
There's also a couple of examples of the original and restored version of songs, as well as a mono to 5.1 comparison of "Crying."
Oough owners of 16x9 TV sets will have to stretch/zoom the picture to fit their screens or risk burn in.
When all is said and done, what you end up with here is a terrific memorial to Roy Orbison, a man whose influence on pop music goes far beyond his life.
Roy Orbison Greatest Hits, from Eagle Vision
90 min. full frame (4:3, not 16x9 TV compatible), Dolby Digital and dts surround sound