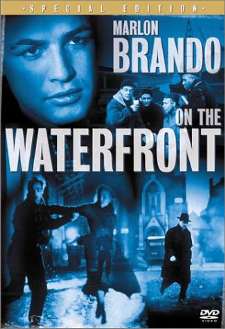 On the Waterfront on DVD
All Time Contender
By Jim Bray
Elia Kazan's masterpiece On the Waterfront received eight Academy Awards after its release in 1954. It deserved them and more.
It's the story of the moral coming of age and redemption of Terry Malloy (Marlon Brando), a New York longshoreman who once was a small time boxer with possibilities.
The waterfront is run with a steel fist by "Johnny Friendly" (Lee J. Cobb), head of the longshoreman's local, aided by his mafia-like organization. You're friendly to Friendly, and do what he says when he says it, and you'll work in a cushy job on the waterfront. You cross him and…
The movie opens with Terry doing Friendly's bidding, luring a friend to the roof of his apartment building on the pretense of returning one of his carrier pigeons. Seconds later, Terry's shocked to see his friend's body plummeting to the street, dead. It turns out that the friend had crossed Friendly - and Terry had been the one who lured him to his death.
This doesn't sit well with Terry, who's at heart a decent, though tough and confused, fellow. His friend had gotten into trouble for being about to rat to the authorities about Friendly and his organization, yet now Terry also knows first hand about the corruption and tactics of these people he had until now considered to be his friends.
Adding to his confusion is a budding love for his dead friend's sister (Eva Marie Saint) and the fact that his big brother (Rod Steiger) is one of Friendly's top henchmen.
As Terry gets closer to Edie (Saint) and Father Barry (Karl Malden), the parish priest who's out to help the workers slough off the unfriendly yoke of Friendly and his crew, he becomes more resolved to do the right thing and spill what he knows about the mob to the authorities.
Friendly sees it coming, of course, and unleashes all his powers (gee, sounds like a Star Wars movie, doesn't it?) to ensure young Terry remains faithful. This leads to the famous - and riveting and moving - "Contender" scene where Charley Malloy (Steiger) is sent to bring Terry to heel, but can't.
If you've never seen another movie scene, this one will give you faith in the medium as an art form.
But that scene is merely icing on the cake. On the Waterfront is a powerful drama brilliantly acted and filmed and is well deserving of its honored place in movie history.
Brando, who won the Best Actor Oscar for his role as Terry, is simply breathtaking. He's tough, confused, soft, caring, all in the space of a few seconds. Many have said some not too flattering things about this actor, and perhaps they were justified, but On the Waterfront proves he earned the kudos as well.
The supporting cast is equally outstanding and it's a shame more of them weren't honored as well. Malden, Steiger and Cobb were all nominated for Best Supporting Actor and perhaps the only reason none of them won was that it would have been an impossible travesty choosing between then. Other Oscars, equally well deserved, went to the film itself (Best Picture), Eva Marie Saint (Best Supporting Actress), Kazan (Director), Budd Schulberg (Best Story and Screenplay), Best Editing, Best Cinematography Black and white and Best Art Direction Black and White.
Mention should also be made of Leonard Bernstein's Oscar-nominated score, which sets and fits the film's mood perfectly.
Columbia Tristar has done a nice job on the DVD. It is not, alas, presented in anamorphic widescreen, but it wasn't shot in it either. What you get, then, is the original full screen (4x3) aspect ratio in a digitally mastered transfer that looks great. The audio is Dolby Digital mono, directed quite properly to the center speaker, and the sound is fine.
Extras include a fascinating documentary on the film, with comments from some of the cast and crew (and some outsiders who appear to know about that which they speak). There's also an interview with director Elia Kazan and an audio commentary track feature Time Magazine's film critic Richard Schickel and Kazan's biographer Jeff Young.
Extra extras include filmographies, trailers, and production notes.
This is a must see, must own disc for serious students of the art of filmmaking.
On The Waterfront, from Columbia Tristar Home Video
108 min. full screen (4x3), not 16x9 TV compatible, Dolby Digital mono
Starring Marlon Brando, Karl Malden, Lee J. Cobb, Rod Steiger, Eva Marie Saint
Produced by Sam Spiegel
Written by Budd Schulberg, directed by Elia Kazan.