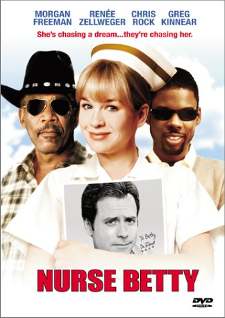 "Nurse Betty" on DVD
Crazy, Woman
Renée Zellweger is a waitress obsessed with a soap opera actor in this not particularly funny outing from director Neil LaBute.
Betty is so hooked on "A Reason to Love" that she ignores her customers, so glued to the idiot box is she. What really throws her for a loop, however, is witnessing the murder of her sleazebag husband by two professional killers (Morgan Freeman and Chris Rock). The shock sends her off the deep end and she retreats into a fantasy world in which she really believes she's a nurse who's engaged to Dr. David Ravell (Greg Kinnear), the soap opera character of her infatuation.
Taking a car with a cargo that's the target of the two crooks, Betty leaves her midwest home and heads for Los Angeles to meet the man of her fantasy - with the killers hot, though not too hot, on her trail.
She arrives in LA and eventually meets her dream guy, who thinks she's an actress wannabe trying to get onto the soap. He's taken enough with her to get her onto the show, where the sudden reality that it's all a fantasy brings her back to reality.
Sounds like a real knee slapper, doesn't it?
There are some amusing situations in "Nurse Betty," and the Morgan Freeman/Chris Rock relationship is amusing. Freeman's character is easily the most interesting in the film; he's a kind of renaissance man whose job just happens to be to kill people, and his interests go far beyond mere bloodletting.
The cast gives good performances, expecially Renée Zelleweger as Betty and Freeman as the killer. The situations are ludicrous enough to elicit some smiles, but the movie really isn't particularly funny, and that's a shame.
The DVD itself is excellent. It's presented in anamorphic widescreen, 16x9 TV compatible, and the audio is Dolby Digital 5.1 and 2.0. Extras include a pair of commentary tracks, one with the cast and one with the crew. There are also deleted scenes, promo spots, some "real" episodes of the movie's soap opera, and some "hidden bonus feature" we won't spoil by spilling for you.
Nurse Betty, from USA Home Entertainment
110 min. widescreen (2.35:1), 16x9 compatible, Dolby Digital 5.1
Starring Morgan Freeman, Renée Zellweger, Chris Rock, Greg Kinnear
Produced by Gail Mutrux, Steve Golin,
Written by John c. Richards & James Flambert, Directed by Neil LaBute.