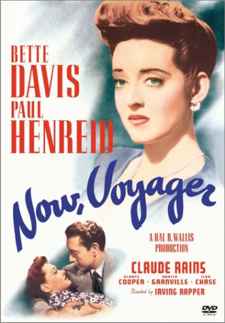 Now, Voyager
Bette Davis Tearjerker
This 1942 melodrama was based on a novel by the author of Stella Dallas and stars Bette Davis a woman dominated by her overbearing mother. This situation has left Charlotte Vale (Davis) on the verge of a breakdown, prompting an intervention on her behalf by a famous and kindly shrink played by the great Claude Rains.
Rains works a miracle on Charlotte, turning her into a beautiful, confident woman who leaves her mental prison and embarks on a whole new life. She decides to take a pleasure cruise, on which she meets Jerry (Paul Henreid), the father of a troubled daughter. They fall in love, of course, but since Jerry is married (albeit unhappily), the romance can not be allowed to lead anywhere. So they go their separate ways.
Destiny brings them together on occasion, however, and Charlotte finds great satisfaction in helping Jerry's child (sounds like she should have been involved in the MDA telethons!).
Now, Voyager was basically the tearjerker template used by many filmmakers who followed, and so will seem familiar even to people who've never seen it before. It did to us.
Davis is outstanding, as is the rest of the cast - and don't forget to have some Kleenexes handy; they don't call this type of flick a tearjerker for nothing!
Mention should also be made of Max Steiner's outstanding, Oscar-winning musical score. Steiner was one of the best, and this is one of his best.
The DVD was released in its original, full screen aspect ratio, so it fits 4x3 TV's well, but owners of 16x9 TV's will have to stretch it to fit the screen from side to side. This is always unfortunate, but we can't think of a better way of doing it - and it's probably poetic justice for all those people who hate the black bars above and below the screen of widescreen movies when played on 4x3 TV's.
Anyway, the black and white picture is sharp and clean, with good contrast, and the Dolby Digital mono audio sounds mostly good and is correctly directed to the center front speaker, where the sounds will appear to come from the TV screen.
Extras include musical scoring session cues, which are an interesting exercise for fans of the technical side of movie making. There are also some cast/crew career highlights.
Now, Voyager, from Warner Home Video
117 min. black and white, full screen (4x3), not 16x9 TV compatible, Dolby Digital mono
Starring Bette Davis, Paul Henreid, Claude Rains, Gladys Cooper,
Produced by Hal B. Wallis
Written by Casey Robinson, Directed by Irving Rapper.