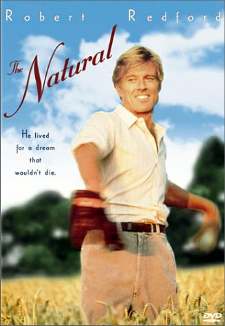 "The Natural" on DVD
Redford's Biggest "Hit" Movie
Barry Levinson's "The Natural" is nothing if not schmaltzy, but that doesn't prevent it from being an excellent film nonetheless.
Robert Redford is Roy Hobbs who, from childhood, wants to be the best baseball player there ever was. He gets his chance, leaving his home and his sweetheart and boarding a train for an unknown but presumably exciting future that starts with his major league tryout. Along the way he catches the attention of a popular syndicated baseball columnist (Robert Duvall) when, on a bet, he strikes out "the Whammer," a star of his day.
Then his life is unexpectedly shattered and the movie jumps ahead sixteen years to a "middle aged" (for baseball, anyway) Roy Hobbs as he takes his place as a rookie with the cellar dweller New York Knights. Over the protestations and against the better judgement of the team manager (Wilford Brimley), Hobbs eventually gets his change.
The rest, as they say, is history.
Or at least it would be if there was any justice - but this is a drama first and so there must be conflict. In "The Natural" it comes from the unscrupulous team owner partner and his bookie henchman, who have their own reasons for the Knights to be a continual failure. Hobbs' outstanding abilities, character, idealism, and leadership threaten that, so they sic a beautiful blonde (Kim Basinger) on him to keep him occupied and to ensure his mind isn't on the game.
Hobbs goes into a slump that threatens to put the Knights on the skids once again - but as if by magic he comes out of it when a vision from his long-dead past appears before him during a game in Chicago.
Hobbs is back on the right track, and the team starts winning again - but this only causes his enemies to pull out all the stops to prevent the inevitiable Hollywood ending from happening, and once more Hobbs' and the team's futures are in doubt.
Redford is very good as the idealistic and talented Hobbs, and director Levinson appears to take great pains to make him appear not as the goodlooking matinee idol but as a handsome but all-too-human person. The whole ensemble cast does outstanding work in the film, from Brimley and Duvall to Glenn Close, Richard Farnsworth and Darren McGavin.
The film has a glowing, ghostly look in many places that lets you know that this is really a fantasy, yet it manages to look gritty and believable at the same time, while presenting the mythic quality of America's national obsession with the Boys of Summer. In all, an excellent film.
The DVD is presented in anamorphic widescreen, 16x9 TV compatible, and despite the deliberate softness of the picture it looks great. The audio is in 2 channel Dolby Surround and 4 channel "Discrete Surround;" we preferred the discrete version, which envelopes the viewer in the atmosphere better than the original.
Extras include a documentary featuring Cal Ripken Jr., talen files, production notes, "original story source material" and of course theatircal trailers.
The Natural, from Columbia Tristar Home Video
138 min. widescreen (1.85:1) 16x9 compatible, Dolby Surround and Discrete Surround
Starring Robert Redford, Robert Duvall, Glenn Close, Kim Basinger, Wilford Brimley, Barbara Hershey, Robert Prosky and Richard Farnsworth
Produced by Mark Johnson
Written by Roger Towne and Phil Dusenberry, Directed by Barry Levinson.