"Mystery Men" and "Lake Placid" on DVD
Super Duper Spoofs
by Jim Bray
"Mystery Men" and "Lake Placid" are a couple of great spoofs. They're funny, intelligent, irreverent, well-made - and never insult the audience's intelligence no matter how ludicrous the situation on screen may be.
Universal's Mystery Men lampoons the Justice League of America, Superman, Batman, and all the other superheroes we know and love. It's the story of a bunch of social misfits who really, really wannabe superhero crime fighters - and spend years pursuing their craft.
The problem is, they aren't really very super.
Take "The Blue Raja" (Hank Azaria, hilariously doing his best Terry-Thomas impression). He lives at home with his mom and borrows her prize silver forks to use as his "super weapon." His real skill, and the one he seems to practice the most, is the glib "superpun" that works the word "fork" into as many lines as possible.
Or "The Shoveler." William H. Macy's superhero is a married man with kids who brandishes a shovel as his superskill - can you dig it? Or "Mr. Furious" (Ben Stiller), whose claim to obscurity is his raging temper.
When arch-villain Casanova Frankenstein is released from jail, real life superhero (okay, he isn't that super either, but at least he has corporate sponsorship) Captain Amazing (Greg Kinnear) disappears and the WonderWannabes discover he's been taken by the Ultra Bad Guy. So they gather together a few more like-skilled heroes-in-waiting to rescue Captain Amazing, stop Casanova Frankenstein, and therefore save Champion City.
The story is silly and done with its tongue planted firmly in its cheek. Despite that, the actors play their parts straight - or as straight as appropriate in this farce.
The cast, which includes Geoffrey Rush as Frankenstein, Janeane Garofalo as The Bowler (who chucks around her father's plastic-encased head), Paul Reubens as "the Spleen" (whose flatulence is a lethal weapon) and Eddie Izzard, Kel Mitchell, Wes Studi, and Tom Waits are well cast and turn in just the right amount of comedic joy without resorting to eye-rolling.
The production values are first rate as well. Champion City looks like a cross between Tim Burton's Gotham City and Ridley Scott's "Blade Runner" Los Angeles. In all, it's an outrageous and hip flick that'll keep you chuckling for its two hours.
The widescreen DVD is Dolby 5.1 surround and audio/video quality are excellent. There are plenty of extras, too: a "Spotlight on Location" featurette, commentary by director Kinka Usher, a selection of deleted scenes (a couple of which are really a hoot), production notes, trailer, music highlights, some rudimentary DVD ROM features, and more.
Mystery Men, from Universal Home Video
122 minutes, Widescreen (1.85:1), Dolby Digital
Starring Hank Azaria, Claire Forlani, Janeane Garofalo, Eddie Izzard, Greg Kinnear, William H. Macy, Kel Mitchell, Lena Olin, Paul Reubens, Geoffrey Rush, Ben Stiller, Wes Studi, Tom Waits,
Produced by Lawrence Gordon, Mike Richardson, Lloyd Levin, Written by Neil Cuthbert
Directed by Kinka Usher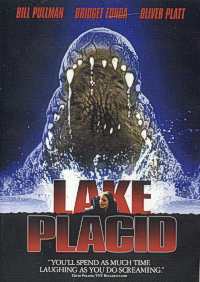 Fox's "Lake Placid" is a terrific spoof of the "monster run amok" genre.
Written and co-produced by Ally McBeal's David E. Kelley, the story surrounds a huge crocodile that somehow found its way into Black Lake in Maine. The croc has actually been there for many years, though we don't find that out until later in the film, but it comes to the authorities' attention when it snaps a Wildlife officer into bite sized pieces.
Bill Pullman leads the investigative team trying to find out what happened to the dead officer. He's joined by - among others - Bridget Fonda as a palaeontologist on what seems to be her first foray into the great outdoors, and Oliver Platt as a whacky millionaire who tracks down crocodiles because he thinks they're godlike.
The cast is terrific, but it's the writing that makes this film what it is. Okay, the beautiful lake scenery doesn't hurt. And of course Stan Winston's anamatronic (and his Digital Domain's virtual) monster doesn't hurt either.
The screenplay is a howl. None of these people are particularly nice, and they spend most of the movie complaining to each other how nasty everyone else is.
It's a spoof in the grand tradition - but it's also a horror film in its own right, albeit a very unusual one. I don't want to spoil it for you, but suffice it to say "Lake Placid" is a monster movie with a monstrous monster which meets an end different from most fright flicks. And though the gore is there when necessary, the film is never unnecessarily gory. In fact, far fewer people get killed in the waters of Black Lake than in the customary bloodbath film.
This is also a very short movie. Its total running time is only about 82 minutes, but director Steve Miner has packed a whole lot of movie into that space and you don't eject the disc feeling ripped off. On the contrary, the story moves along at breakneck speed and you're almost panting for breath when it's over.
Audio and video quality of the widescreen DVD are superb though, as with many current DVD's, you have to set the Dolby Digital audio manually via the language menu. Fox also chooses to inflict those horrid animated menus on the audience, unfortunately, but one can't blame them since so many other films are coming that way these days.
Other extras include a short "making of" documentary, some TV spots, the trailer, cast/crew info, and the usual subtitle/language choices.
Lake Placid is a marvelous monster mayhem movie. In fact, it's too back the makers of Deep Blue Sea didn't see it before they made their shambles of a film.
Starring Bill Pullman, Bridget Fonda, Oliver Platt, Written by David E. Kelley, Directed by Steve Miner
Mystery Men, from Universal Home Video
122 minutes, Widescreen (1.85:1), Dolby Digital
Starring Hank Azaria, Claire Forlani, Janeane Garofalo, Eddie Izzard, Greg Kinnear, William H. Macy, Kel Mitchell, Lena Olin, Paul Reubens, Geoffrey Rush, Ben Stiller, Wes Studi, Tom Waits,
Produced by Lawrence Gordon, Mike Richardson, Lloyd Levin, Written by Neil Cuthbert
Directed by Kinka Usher