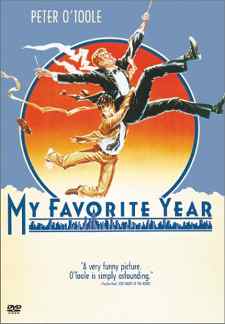 My Favorite Year on DVD
Peter O'Toole gives a wonderful performance as an aging matinee idol making an unprecedented live TV appearance in this hilarious scenery chewer.
O'Toole is Alan Swann, a swashbuckler obviously modeled on Errol Flynn, a Hollywood bad boy known for buckling his swash, thrusting his fleshy sword into a variety of pliable females, and generally being drunk and disorderly and keeping the tabloids busy.
Benjy Stone (Mark Linn-Baker) tells the story. He's a writer for Comedy Cavalcade, an "Allan Brady Show" (where Rob Petrie worked in "the Dick Van Dyke Show") type of broadcast with an egotistical star King Kaiser (hilariously played by Joseph Bologna). Benjy's a shy Jewish boy from Brooklyn who's having the time of his life making it in early live TV in the Big Apple. When his boyhood hero Swann shows up at the show's offices for his guest stint comatosely drunk, he's assigned to babysit him through the rehearsals and the live broadcast.
It's the biggest challenge he's had to date, and for the most part he does okay. But in the meantime, he gets to know this man to whom he's looked up all his life - and discovers there's a lot more below the surface of Alan Swann than meets the media's eye.
O'Toole is simply irresistible as Swann, alternately chewing the scenery and making us feel very much for him. His Swann is no dummy, and he knows that despite the image straitjacket he wears it also allows him to do a lot of things ordinary people could never get away with. Yet despite that, he isn't happy - but during his time at Comedy Cavalcade he learns what he needs to do to achieve that happiness.
So we get to laugh our collected asses off at his, and the rest of the cast's, antic - while developing a real fondness for the larger than life people whose lives we share for some 90 minutes. These people include Jessica Harper, Lainie Kazan, Bill Macy, Anne de Salvo, Basil Hoffman, Lou Jacobi, Adolph Green and Cameron Mitchell.
My Favorite Year is quite simply hilarious. The Dick Van Dyke Show analogy made above is extremely valid (and that was one of the funniest sitcoms ever) - though the script is actually more inspired by Mel Brooks' (whose company made the film) early days as a writer.
The DVD is no special edition, but that doesn't make the movie any less enjoyable. The picture, presented in anamorphic widescreen (16x9 TV compatible) is a little soft in places but generally is very good, with a sharp image and lovely color.
Audio is Dolby Digital mono and it's unremarkable but okay.
The only extra worth mentioning is a running commentary by director Richard Benjamin, which includes some fascinating insight into this "valentine to New York." Otherwise you get an extremely lame cast/crew list (with only one link to Peter O'Toole's filmography) and the theatrical trailer.
Despite the dearth of extra materials, however, My Favorite Year is a wonderful film that deserves to be played in your home theater. It'll make you laugh out loud.
My Favorite Year, from Warner Home Video
92 min. anamorphic widescreen (1.85:1), 16x9 TV compatible, Dolby Digital mono
Starring Peter O'Toole, Mark Linn-Baker, Joseph Bologna, Jessica Harper
Produced by Michael Gruskoff,
Written by Norman Steinberg and Dennis Palumbo, Directed by Richard Benjamin