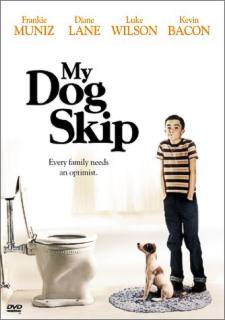 "My Dog Skip" on DVD
Bark, with Bite
Based on an autobiographical story by author Willie Morris, "My Dog Skip" is a warm-hearted tale of a boy growing up in the U.S. South of WWII and the dog that helps him through the rough parts of life.
Willie, played by the perfectly cast Frankie Muniz, is a nice kid, though a bit of an outcast. He receives His Dog Skip as a birthday present from his mother (Diane Lane), over his father's (Kevin Bacon) objections, and the two begin a man/dog relationship that's the heart of the film's story.
Willie and Skip - an extremely intelligent pooch - are inseparable, and the two of them manage to forge relationships with former enemies who bullied Willie, as well as "the prettiest girl in town," who's drawn to Willie through Skip.
The movie is about trust, love, and character, and while it could have been an extremely sappy movie experience it actually works very well.
Bacon and Lane are both very good as Willie's parents, and Luke Wilson turns in a good performance as "Dink," the next door neighbor whom Willie holds on a pedestal despite some trying times in both of their lives.
The DVD is featured in widescreen and fullscreen incarnations, and the picture quality is very good. Audio is Dolby digital 5.1, and it's also very good.
Extras include a pair of full length running commentaries, one featuring young Frankie Muniz and the woman who trained "Skip" and the other featuring directory Jay Russell.
There's also a section of deleted scenes, with explanatory commentary by director Russel, a biography of the real Willie Morris, and the teaturical trailer.
"My Dog Skip" is one of those rare films that combines humanity with intelligence, and it's well worth seeing by any member of the family.
My Dog Skip, from Warner Home Video
97 minutes, Widescreen (1.85:1)/Pan&Scan, Dolby Digital
Starring Frankie Muniz, Kevin Bacon, Diane Lane, Luke Wilson
Produced by Mark Johnson & John Lee Hancock and Broderick Johnson & Andrew A. Kosove
Written by Gail Glichriest, Directed by Jay Russell