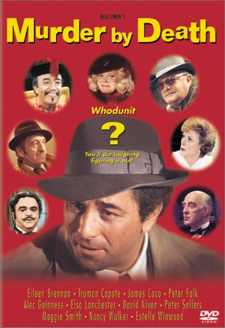 Murder by Death on DVD
Neil Simon serves up a very funny homage to detective movies of yore in this star-studded comedy DVD.
A mysterious and reclusive sleuth wannabe (Truman Capote) invites the top private eyes of his day to dinner and a murder at his country estate, prompting the appearance of the comedy clones of Sam Spade (with Peter Falk doing his best Falk/Bogie impression), Charlie Chan, Nick (and Nora) Charles, Hercule Poirot and Miss Marple, all of whom take the bait and show up to solve the crime that has not yet been committed.
The cast is outstanding. Besides Falk (Sam Diamond), who's backed up by Eileen Brennan, we're treated to David Niven and Maggie Smith as Dick and Dora Charleston, the hilarious Peter Sellers as Sidney Wang, James Coco as Milo Perrier, and Elsa Lanchester as Jessica Marbles. Perrier is accompanied by his chauffeur Marcel (James Cromwell), while Miss Marbles brings along her aged nurse Miss Withers (Estelle Winwood) and Wang drags out his adopted son Willie (Richard Narita).
All of these good and/or great actors appear to be having the time of their lives as they mug their way through Simon's pun-and-obvious-laugh-filled script. Sure the jokes are obvious and corny, but they're also funny and the whole idea of spoofing this genre of film is pulled off very well.
We're surprised Mel Brooks hasn't done such a thing yet…
As if the detectives aren't enough, the show is positively stolen from the other heavyweight actors by Alec Guinness as the blind butler Jamesir Bensonmum.
The DVD is a good presentation of the film. It's presented in digitally mastered anamorphic video (16x9 TV compatible), with Dolby Digital mono audio. Picture quality is very good, with bright colors and sharp-edged images, while the audio is merely okay.
A Pan&Scan version is included on the second side of the disc.
Extras include a fairly entertaining conversation about "Murder By Death" with creator Neil Simon as well as talent files, trailers, and production notes.
In all, one of the wittiest and most entertaining spoofs we've seen.
Murder by Death, from Columbia Tristar Home Video
94 min. anamorphic widescreen (1.85:1), 16x9 TV compatible/Pan&Scan (side two), Dolby Digital mono
Starring (in diabolical order) Eileen Brennan, Truman Capote, James Coco, Peter Falk, Alec Guinness, Elsa Lanchester, David Niven, Peter Sellers, Maggie Smith, Nancy Walker, Estelle Winwood
Produced by Ray Stark
Written by Neil Simon, Directed by Robert Moore