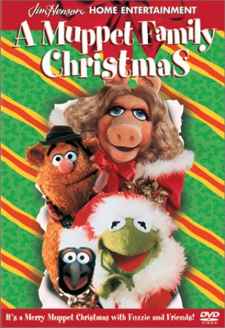 A Muppet Family Christmas
Ever since I was a wee lad, I've loved the Muppets. From the original TV show, to the Saturday morning cartoon Muppet Babies; through all their movies and even their failed 90's TV show, I've loved the Muppets.
Now that I've seen A Muppet Family Christmas, I've lost a little respect for them.
To put it bluntly; A Muppet Family Christmas is extremely lame. It's basically an excuse to get every possible TV puppet into one 42-minute "special." There are the regular Muppets, as well as the Sesame Street Muppets (which includes Big Bird), and yes, even the Fraggle Rock gang are on hand to celebrate a cool Yule.
They get together at Fozzie's mother's house and sing a bunch of Christmas songs. That's about it.
There's also a human (as always), who manages to make the same transition as Ebeneezer Scrooge, but where it took Scrooge a whole book, movie, or TV special, this person manages it in only one scene.
Impressive.
Really, it isn't a good idea to have so many characters from so many TV shows all present in the same room. All it does is show us how similar many of the characters sound. Ernie sounds exactly like Kermit the Frog, and Bert sounds somewhere in between Fozzie Bear and Yoda. Gee, could it be because they're voiced by the same people?
Of course, but usually the characters have enough space between them to make the difference less noticeable.
A Muppet Family Christmas was clearly made to capitalize on the Muppet phenomenon. Nothing more.
It's really a shame, too, cause I still love those wacky characters.
A Muppet Family Christmas, from Columbia Tristar Home Video
42 min. , full screen.