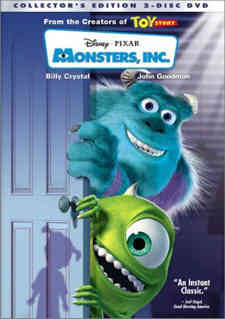 Monsters, Inc. on DVD
Pixar, makers of the Toy Story movies and A Bug's Life, have unleashed another terrific computer-animated feature in Monsters, Inc.
The story is arguably slightly inferior to those other releases, but only slightly (and it still brims over with imagination!), and in the meantime Pixar has once again moved the CG goal posts with an outstanding example of technology used in pursuit of art.
The concept is a little bit like that of "Tim Burton's The Nightmare Before Christmas," but only a little – as, like the denizens of Halloween Town, these scary monsters aren't really frightening on their own, but are merely doing their jobs – jobs that require them to be frightening.
In this case, the monsters are kind of like miners: they must scare children in order to gather their "screams" and take them back home again to help power their world. It's kind of a parallel universe situation, where the monsters and the humans live on different planes of existence, and the monsters enter the human word by way of portals that just happen to look like (and, in fact, are) the closet doors of the little ankle biters who are about to be frightened.
Nifty concept, and it's well done – especially the scenes of Monsters, Inc.'s facility, a huge place that's marvelously rendered.
Anyway, James P. "Sulley" Sullivan (voiced by John Goodman) is a big, blue, hairy creature who's also the reigning champion frightener. His assistant and buddy is Mike Wazowski (voiced by Billy Crystal), and this team is going for the record "scream gathering" when things go seriously awry.
What happens is that a little girl slips through the portal into Monstropolis, and since human children are supposedly toxic to monsters, she threatens to bring destruction down on the city and its residents. Can Sully and Mike get little "Boo" back home safely before their civilization crashes?
The plot is actually quite a bit more complex than this quick outline indicates, and that's fine: watch the DVD to get all the delicious nuances of this film.
Meanwhile, we end up with another winning feature from Disney/Pixar, one with laughs and heart-tugging emotions – and plenty of eye-popping action and settings. The writers/producers/directors have really outdone themselves this time, and the 2 disc Collector's Edition DVD is a mighty nifty package that will not only provide plenty of fun hours in the home theater, but will also provide an excellent showcase for your home theater itself.
The movie is offered in a THX-certified, direct digital-to-digital transfer that's nothing short of outstanding. And, as with "A Bug's Life's" special edition, Disney offers the feature in both anamorphic widescreen formats (16x9 TV compatible), and a specially reframed 4x3 version for those who haven't yet embraced the world of widescreen TV. This is the way it should be done if you must include a "full screen" version, rather than the unfortunate current trend toward offering separate versions in separate packages which rips off "old style" TV owners by forcing them to either live with a stretch/zoomed image or buy a new widescreen DVD when they inevitably buy a new TV.
So far as the picture quality is concerned, one couldn't ask for much better. The image is razor sharp and bright and colorful, with no discernible artifacts, and looks absolutely magnificent. Audio is Dolby Digital Surround EX and it is up to the high standards of the video side of the equation: your audio system, including your subwoofer, will love it (though your neighbors may not!)
There's also a Dolby Digital EX sound effects-only track, which is pretty cool once.
And talk about extras! While some appear to be cases of gilding the lily, we're hard pressed to complain about added value.
First up is an audio commentary from filmmakers Pete Docter, Lee Unkrich, Andrew Stanton and John Lasseter, as well as a selection of the CG "outtakes" to which we've become accustomed. We think Pixar may have begun to exhaust the humor and wonder in the outtakes, but we still enjoyed watching them.
You also get two short features, an "all new" one called "Mike's New Car," which is another pretty good computer-animated feature, though overall it's more than a tad lame and/or irrelevant. Better is the Oscar-winning short "For the Birds," which is a wonderful little feature that reminds us of the hilarious old Pixar short "Knick Knack."
There's also a sneak peek of Pixar's next digital extravaganza, "Finding Nemo," and it'll undoubtedly make you want to see it (which is undoubtedly Disney's intention!), and we get to see the Monsters, Inc. company play hinted at during the film.
Naturally, there's plenty more, too, including two separate "worlds" (Monster World and Human World) to explore on Disc Two. This stuff will undoubtedly be particularly interesting to kids, though not exclusively, and includes the opportunity to "become" an employee at the Monsters, Inc. factory. Human World gives you a fascinating tour of Pixar, including some "quality time" spent with the filmmakers. This includes deleted scenes, flyarounds of some of the "film's" "locations" and a guide to some of the film's "in jokes."
You also get "Boo's Door Game," a Music Video, abandoned concepts, and a lot more.
It's one heck of a package, befitting one heck of an imaginative and innovative piece of family entertainment.
Monsters, Inc. from Walt Disney Home Video
93 min, anamorphic widescreen (1.85:1), 16x9 TV compatible, 4x3 full screen
Starring the voices of John Goodman, Billy Crystal, Steve Buscemi, James Coburn, Jennifer Tilly
Produced by Darla K. Anderson
Written by Andrew Stanton, Daniel Gerson, directed by Peter Docter, Lee Unkrich, David Silverman