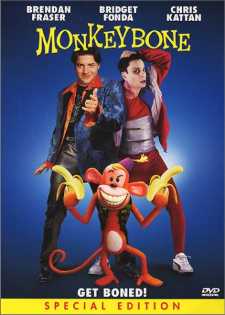 Monkeybone
Wild, and Weird
This is a Really Weird Movie.
Directed by Henry Selick, who helmed "Tim Burton's the Nightmare Before Christmas" and "James and the Giant Peach," it's a blend of live action, animation, and special effects that hearkens more to "Who Framed Roger Rabbit" than the earlier Selick films.
Except that "Roger Rabbit" is, on the whole, a far more accessible film...
Monkeybone is a cartoon character created by Stu Miley (Brendan Fraser, who seems to make a career out of taking offbeat, risky roles). He should really have been named Randy, 'cause that's as apt a description of the cartoon character as anything. After a car accident leaves Miley in a coma, he and his creation end up in an animation/special effects purgatory - and Stu has only three months to find his way back out and into his body again.
Unfortunately, it's Monkeybone who gets the exit visa and who returns to earth in Stu's body - much to the chagrin of his fiancee Julie (Bridget Fonda), who discovers that the man she loved has suddenly been restored to her as the complete opposite of the man she loved.
Meanwhile, Stu is fighting in the underworld to get back to earth to regain his body from Monkeybone and, at the very least, have a chance to say good-bye to the lovely Julie. Since his body is already occupied, he takes over the dead body of a gymnast (Chris Kattan, whose "corpse" is in the process of having its organs removed for transplant) and wanders around in the decomposing flesh.
Sound weird? Told you so.
Monkeybone means well, and it's well worth seeing if only for its far out visuals (a particularly tortured scene from one of Stu's nightmares is one of the most memorable images) and special creature effects, but on the whole it's kind of a mishmash that doesn't really get the audience involved.
Still, there's a lot of humor, action, and bizarre characters and situations, and the movie is never, ever boring!
The Special Edition DVD is presented in anamorphic widescreen (16x9 TV compatible), and the picture quality is excellent. The DTS and Dolby Digital 5.1 audio is also extremely up to snuff, so the disc offers a wonderful audio/visual treat for home theater buffs.
Extras abound, including a director's running commentary, a bunch of extended scenes with (optional) commentary, and an alternate ending (What? They don't run names up the screen?). You also get animation studies with or without commentary, a still picture gallery, trailer, and TV spots.
Monkeybone, from 20th Century Fox Home Video
88 min. anamorphic widescreen (1.85:1), 16x9 TV compatible, DTS and Dolby Digital 5.1
Starring Brendan Fraser, Bridget Fonda, Chris Kattan, Whoopi Goldberg
Produced by Michael Barnathan, Mark Radcliffe
Written by Sam Hamm, Directed by Henry Selick.