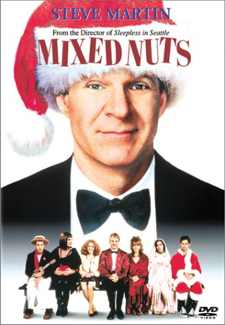 Mixed Nuts on DVD
Writer-director Nora Ephron has had a spotty career, and Mixed Nuts isn't one of the high spots.
Despite a great cast, this is a disappointingly unfunny comedy, and that's a shame. Actually, it appears to be a "love it or hate it" movie and we, unfortunately, fall into the latter category. We didn't care for this flick one bit.
It starts off with a promising enough premise, and a bit of slapstick, but it never lives up to that potential. Set on Christmas Eve in a suicide clinic, the film portrays all of the characters as a bunch of losers, even the suicide prevention workers who are about to be thrown onto the street due to the lack of rent payments.
The cast includes Steve Martin, Rita Wilson, Madeline Kahn, Robert Klein, Rob Reiner, Garry Shandling, and Adam Sandler, most of whom either have nothing to do or are around far too briefly (assuming they'd have had something interesting or funny to do). Sandler and Kahn have the best time in the movie, though Kahn basically plays her usual whiny shrew character yet again.
The plot is basically a series of misadventures involving romance, murder, desperation, and mayhem, but it just doesn't make you laugh. Not even Steve Martin can save it!
Too bad. We really looked forward to this one.

Since Mixed Nuts was based on a French film, maybe something was lost in the translation.
The DVD is fine, however. The digitally mastered anamorphic widescreen picture (16x9 TV compatible); side two has a Pan&Scan version) looks great, and the Dolby Digital 5.1 audio is also very good.
Extras are limited to filmographies and trailers.
Mixed Nuts, from Columbia Tristar Home Video
97 min. anamorphic widescreen (2.35:1)/Pan&Scan, Dolby Digital 5.1
Starring Steve Martin, Rita Wilson, Madeline Kahn, Robert Klein, Anthony LaPaglia, Juliette Lewis, Rob Reiner, Adam Sandler
Produced by Paul Junger Witt, Tony Thomas, Joseph Hartwick
Written by Nora Ephron and Delia Ephron, Directed by Nora Ephron