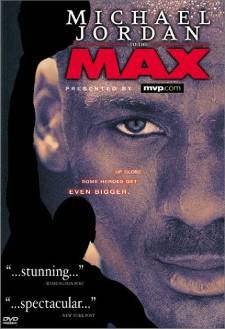 "Michael Jordan to the Max" on DVD
Justifiable Hoop-la
by Jim Bray
I'll start off up front by admitting that, other than from commercials and the incessant hype over the man, I'd never really known that much about Michael Jordan. When "Michael Jordan to the Max" arrived at our office, I didn't particularly want to watch it.
I'm glad I did. In its 45 minute running time I learned a lot, not only about this remarkable American hero, but about life, the pursuit of excellence, and the value of perseverance.
Jordan is given a loving portrayal here as the film meanders through his life, set against the backdrop of his final season triumph with the NBA's then-six time champion Chicago Bulls. We get to meet Jordan on and off the court, and we come away glad we did.
Jordan's on court actions speak for themselves, but I'd never seen them before and so was particularly amazed. Granted, the film doesn't dwell on missed shots or pratfalls, but when they're there it shows them. A lot of time is spent hearing from his peers and associates, and they all pretty well say the same thing: this man is special for a variety of reasons.
Through it all, there's the common thread of Jordan's character and ethic, which are uncommon in those hogging the limelight today. Jordan, it appears, wasn't there for the glory he could receive but for the glory he could pass on to others.
The film was originally an Imax release, and it shows. There are times when the gigantic screen origin works to the detriment of the DVD, for those watching on anything less than a big screen TV. This is because there are some picture in picture interview scenes and if your TV's too small, you'll have to squint to make out what's going on. Most of these are talking heads, however, so in the end it isn't too bad.
Picture and sound quality are first rate. The film is in anamorphic widescreen with Dolby 5.1 surround audio; extras abound, including (for some strange and almost self-serving-appearing reason) a couple of reviews of the Imax film itself.
Other extras include a commentary track, a behind the scenes feature that's about half as long as the main feature itself, four trailers, Jordan's stats, crew bios, etc.
I'm glad I sat through "Michael Jordan to the Max." I came away feeling glad to have vicariously met this American hero, and better for the experience.
Michael Jordan to the Max, from 20th Century Fox Home Video
46 minutes, Widescreen (1.85:1), enhanced for 16x9 TV's Dolby Digital 5.1
Narrated by Laurence Fishburne,
Produced by Don Kempf, Steve Kempf, James D. Stern
Directed by James D. Stern and Don Kempf