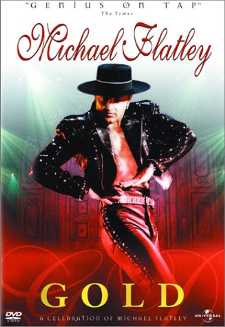 Michael Flatley Gold on DVD
Tapping His Inner Resources
Fans of Michael Flatley's body (or is it feet?) of work will undoubtedly love this DVD. It's a compilation of his greatest hits, interspersed with Flatley's reminiscences of this life and his career.
It's all here, from his childhood in a poor area of Chicago where he had to learn to fight as he learned to dance and play the flute, to his smashing success with "Feet of Flame."
You'll see Flatley in Riverdance, and get a hint at why he left it to create his own production, "Lord of the Dance." We see him and his troupe on stages around the world, backstage, and hanging out with some of his many fans.
But it's the dancing that's worth the price of admission, and fortunately there's plenty of it on hand.
Unfortunately, you have to sit through quite a bit of Flatley on Flatley, and old footage, during the first half. There's dancing, to be sure, but the first half of this DVD is more of a biography with clips, while the second half is more dancing with clips -and is therefore much more satisfying.
Still, on the whole, this is a high energy tribute to Michael Flatley and his brand of Irish dancing that has taken the world by storm. And that's what it's all about.
Flatley comes across as a likeable enough person, though he seems to carry his own talent on his sleeve and seems to dwell on his "rags to riches" story. Still, he's more successful than we are, so at least he has something with which to back up his impressions of himself.
Numbers include Cry of the Celts, Celtic Dream, Dangerous Game, Celtic Fire, Reel Around the Sun, Lord of the Dance, Warlords, Feet of Flames, Whispering Wind, Saorise, Siamsa, Planet Ireland, Court of the High Kings, and many more.
The video quality is all over the map, but it's generally best when recording stage performances - which is exactly when it should be the best. The quality also improves with the disc's chronology; the more recent stuff looks the best, not surprisingly. The disc is presented in anamorphic widescreen (16x9 TV compatible), with Dolby Surround audio.
Sound quality is good, but not as good as it could have been if it had been given the full Dolby Digital routine. Still, it's no slouch.
You could describe this as an exhaustive history of Michal Flatley, but by the time you're finished watching and tapping your feet along with these energenic dance routines, you'll be as exhausted as Flatley after a spirited performance.
Michael Flatley Gold, from Universal Home Video
130 min, anamorphic widescreen (1.78:1), Dolby analog surround
Starring Michael Flatley
Produced by Celia Blaker and Dione Orrom
Directed by Nick Morris.