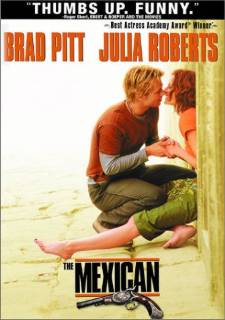 The Mexican
Gringos Star
by Johnny Bray
One would expect a movie titled like this to involve guns, tequila, and repeated use of the word "gringo."
…and it does.
Fortunately, however, it also involves much more than that.
The title subject is actually an antique pistol, as opposed to a person. Jerry (Brad Pitt) is a bumbling gangster who's just finished his "last job." Until of course, he finds out that his efforts on the last job were insufficient. So this next job will officially be his last job.
Jerry's girlfriend Samantha (Julia Roberts) doesn't take this too well. They have plans to move to Las Vegas, and she plans to go with or without him. Jerry explains that if he doesn't do this job, his boss will kill him. Samantha (being a woman) still doesn't listen, and throws his belongings off the balcony.
Typical.
So Jerry goes off to Mexico…alone. And Samantha goes off to Vegas…alone.
Once Jerry gets to Mexico, things start going wrong - as they would have to in order to make an effective movie. And once Samantha gets to a diner, she is kidnapped by a gun-toting hit man, and then kidnapped by another gun-toting hit man. Which of course, as all kidnaps do, leads to a binding friendship that can only be broken by a fatal gunshot wound to the head.
The writing is clever, and the performances are bang-on. The best types of comedies are the ones in which the characters stay completely straight. Movies are much less humorous when the characters are trying to be funny.
There are some interesting plot twists that you may or may not see coming, but either way they're well-used.
The Mexican is also unique at times. For example, I had no idea that a successful hit man could be homosexual. I've always thought of hit men to be strong, very masculine types. Leroy is strong and masculine, but has a soft spot for men.
Aside from Pitt and Roberts, the movie stars James Gandolfini in a superb performance as Leroy, the "regulator of funkiness". Most of the other supporting cast is good, but not nearly as significant.
All in all though, an enjoyable movie that combines comedy, romance, action, and even suspense. The kind of movie almost anyone can enjoy.
Just don't drink the water.
The picture and sound are excellent, with the picture being shown in 2.35:1 anamorphic widescreen, and the sound presented in Dolby Digital and DTS 5.1 surround.
The extras include some deleted scenes with filmmakers' commentary, HBO's "The Making of The Mexican," commentary from director Gore Verbinski and other filmmakers, production notes and the theatrical trailer.
The Mexican, from Dreamworks Home Entertainment
123 minutes, anamorphic widescreen (2.35:1) 16X9 compatible, Dolby Digital and DTS 5.1 surround
Starring Brad Pitt, Julia Roberts and James Gandolfini
Written by J.H. Wyman, Produced by Lawrence Bender and John Baldecchi
Directed by Gore Verbinski