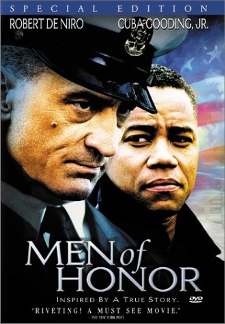 "Men of Honor " on DVD
by Johnny Bray
Ever since Cuba Gooding Jr. won his Best Supporting Actor Oscar for Jerry Maguire, he seems to be trying a little too hard to be "Academy Award Winner Cuba Gooding Jr.". Men of Honor is no exception.
The movie is based on the life of Carl Brashear, the first African-American to become a U.S. Navy diver. Of course, the film takes place in the 50's and 60's, so the other divers - as well as the Navy bigwigs - aren't too happy about a "colored" being amongst them.
Needless to say, Brashear (Gooding Jr.) overcomes the odds, and a racist Master Chief (De Niro), to become the only thing he's ever wanted to be.
The first hundred minutes or so are very good. It has action, suspense, drama…you get the idea. And it clearly defines the two main characters: Brashear and Master Chief Billy Sunday. It doesn't take us long to figure out how much of a jerk Sunday is.
The last half hour, unfortunately, is much more bland. It begins to repeat itself, in that we already understand that Brashear had a tough time becoming a diver. We don't need to have it shoved down our throats.
The best aspect of the film is how it doesn't hit us over the head with the fact that Brashear was hated because he was black. Of course it's a part of the movie, but not the part most emphasized, as would be the case in a movie by, say…Spike Lee.
De Niro, as always, steals the show. Sometimes his southern accent is a little shaky, but that's understandable coming from an Italian. Gooding Jr., as aforementioned, is good, but shouldn't try so hard. It's like a great actor once said: "Acting is easy, as long as you don't get caught doing it."
Men of Honor is a well-made film that could be enjoyed by almost anyone. There's some naughty language, some gratuitous scenes, and some controversial subject matter, but in my experience that means it's more likely to be good.
The "Special Edition" DVD is presented in a 2.35:1 aspect ratio, enhanced for widescreen TVs, with English Dolby Digital 5.1 audio, English and French Dolby Surround, and English or Spanish subtitles. The picture and sound are both superb, which is to be expected of a DVD but which, unfortunately, doesn't always happen.
As well, there are a multitude of extras that will keep you busy for a while. They include an alternate ending (which I don't quite understand considering it's a true story); deleted scenes; commentary by the director, star, and producer; featurettes and documentaries; a music video; and of course, the trailer and TV spots.
Men of Honor, from 20th Century Fox Home Entertainment
128 minutes, widescreen (2.35:1), enhanced for 16X9 TVs, 5.1 Surround
Starring Robert De Niro, Cuba Gooding Jr., Hal Holbrook, Michael Rapaport, and Charlize Theron
Produced by Robert Teitel, Bill Badalato
Written by Scott Marshall Smith, Directed by George Tillman Jr.