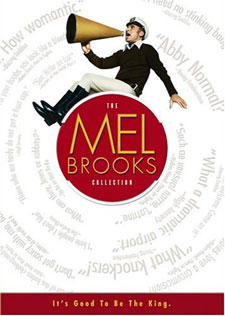 The Mel Brooks Collection on DVD
Subtle he ain't, but funny? Well, we suppose it depends on your definition of funny, but there's generally at least one good laugh in each Mel Brooks movie, and that's a more consistent record of humor generation than many can claim.
And now for the first time together, eight of Mel Brooks titles have been collected into this boxed set, each film with anamorphic widescreen video that, while often grainy, at least brings state-of-the-art aspect ratio to the home theater.
We get most of Brooks' famous films here, the only biggies missing being the original The Producers and Spaceballs, both of which have received DVD reissues in the not-too-distant past. The rest pretty well run the gamut from his early and more underappreciated works (The Twelve Chairs) to one of the latest installments in his series of "genre and legend" spoofs, Robin Hood: Men in Tights. We don't get his Dracula: Dead and Loving it or Life Stinks in this collection, either, but what can you do?
Fortunately, we get Brooks best works here, in our never humble opinions, including the movie that really put him on the map (Blazing Saddles) and our personal favorites, High Anxiety and Silent Movie. And one mustn't forget Young Frankenstein, Brooks' first boffo bow to the monster movie genre.
Here's what you get in the box:
The Twelve Chairs is undoubtedly Brooks' least famous title, but it's also one of the funniest. It features a good story, in this case adapted from an old Russian yarn, and Ron Moody (perhaps best known as Fagin in the movie version of the musical Oliver!) and Frank Langella (perhaps best known as one of the many Draculas) as a pair of treasure hunters.
Blazing Saddles, as mentioned, really put Brooks on the map not only as a genre satirist but for his sometimes tasteless - though funny - filmmaking (remember the campfire scene?).
He followed up this hit with Young Frankenstein, which many argue is one of the funniest movies ever. We won't go that far, but it's definitely up there.
You really should see Silent Movie which, surprisingly enough, is just what it says - though there is one word spoken in it (by the person one would least expect, appropriately). Here, Mel's a down-on-his-luck director who hooks up with a down-on-its-luck studio (the head of which is played wonderfully by Sid Caesar) to create a new hit with the gimmick that it's a silent in the age of talkies and color. There are some good cameos here, too, as some of Hollywood's biggest stars of the time send up themselves.
High Anxiety is a tribute to Alfred Hitchcock, and we think it's Brooks' best. Brooks plays a famous shrink who suffers from what Hitch would probably call "vertigo," but which Brooks manages to name more clearly as well as string a movie and a song about.
History of the World, Part 1 is a send up of various historical events and epics ("a little something to offend everyone", says the jacket), including the Roman empire, French revolution and Spanish Inquisition.
To Be or Not to Be is actually a remake of the 1942 Ernst Lubitsch classic of the same name. Brooks stars with his wife, the late Anne Bancroft, and it's the only film in this collection that Brooks didn't direct. It's a second world war comedy in which Brooks and Bancroft are actors caught up in the hostilities.
One can't mention Mel Brooks without mentioning his supporting cast members, many of whom appear in numerous Brooks films. These include Gene Wilder (star of Blazing Saddles and Young Frankenstein), Madeline Kahn, Cloris Leachman, Harvey Korman, Dom Deluise, Liam Dunn, Ron Carey, Marty Feldman and Dick van Patten. Other names include Cleavon Little, Cary Elwes, Bernadette Peters and, in his first movie, Dave Chappelle.
The bonus features aren't really much to write home about, but better minor extras than none. Depending on the disc, you could be treated to featurettes, interviews, trailers and the likes. Young Frankenstein also gives you deleted scenes, commentary, documentary and outtakes, while Blazing Saddles features a nearly hour long interview with Brooks.
All in all, a very good (though not perfect, of course) Mel Brooks collection.
The Mel Brooks Collection, from 20th Century Fox Home Entertainment