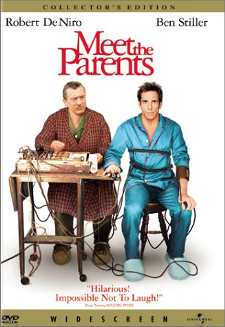 "Meet the Parents " on DVD
by Johnny Bray
There's nothing like a weekend in the country with your girlfriend.
Unless of course you're going to meet her father, who just happens to be Robert De Niro.
That's the exact premise behind Meet the Parents, where Greg Focker (Ben Stiller) spends a weekend with his girlfriend's parents.
De Niro is Jack Byrnes, an ex-CIA agent posing as a mild-mannered florist. He's the type of father who thinks his daughter is too good for everyone, so he manages to find something wrong with every guy she brings in the house.
And of course, it doesn't help that Greg can't do anything right. All hell breaks loose from day one, with each screw up more disastrous than the last.
The story is by no means anything new. In fact, it's a lot like the movie Son in Law, except it has two major advantages over it: 1) It doesn't star Pauly Shore, and 2) It's funny.
The two lead roles (Byrnes and Focker) were obviously written for the actors who play them. Byrnes seems to be a take of every character De Niro has ever played, and Focker is a take on many of the characters Stiller has played.
So naturally, they play them naturally.
Really, the only problem with the movie is the overuse of the joke on Greg's last name. Calling him a stupid Focker (and the like) is funny the first few times (and also when they discover his real name), but it gets old. Every time Greg screws up, someone makes a crack about his name.
The thing that pleased me the most about the movie was how it didn't lose its humour at the end like most comedies do. Sure it has a happy ending and gets all mushy and everything (I hate that), but it makes up for it with the last two scenes.
The movie is directed by Jay Roach (Austin Powers), and written by Jim Herzfeld and John Hamburg. You can see the resemblance to Austin Powers in the fact that it's just an all-around silly movie.
In the supporting cast, there are Teri Polo (Pam Byrnes; Greg's girlfriend), Blythe Danner (Mrs. Byrnes), Owen Wilson (Pam's ex-fiancée), and Jinx (Jack's furry feline friend).
Wilson is his usual scene-stealing self. He has an ability to make anything funny; maybe it's the way he delivers the lines or whatever. It doesn't really matter. The point is, he's very good.
De Niro however, is such a phenomenal actor that it seems impossible for him to turn in a lousy performance. It's doubtful that anyone has had more movie-stealing performances than he. This movie is a perfect example. He takes over the movie without even trying. It's worth checking out just to watch him work his magic.
The movie seems to be perfectly cast as a whole, very cleverly written, and well directed. And it's great, cause it works as a date movie, as well as a non-date movie. It's one of those win-win situations. Like The Terminator.
If you like silly movies, and enjoy laughing, check this one out.
The DVD is presented in anamorphic widescreen, 16x9 TV compatible, and the video quality is very good, indeed. Audio is DTS and Dolby Digital 5.1. Extras include "Spotlight on Location," a feature commentary with director Roach and editor Jon Poll, and a second commentary track with cast members de Niro, Stiller, director Roach and producer Rosenthal.
It does't end there. You also get deleted scenes, outtakes, and some tidbits including a game, "lie detector test," cast/crew info, proeuction notes, DVD ROM stuff (like screensavers and Windows Wallpaper), and the trailer.
Meet the Parents, from Dreamworks Home Video
108 min. widescreen (1.85:1) 16x9 compatible, DTS and Dolby Digital
Starring Robert de Niro, Ben Stiller, Blythe Danner, Teri Polo, James Rebhorn,
Produced by Nancy Tenenbaum and Jane Rosenthal, Robert de Niro, Jay Roach
Written by Jim Herzfeld and John Hamburg, Directed by Jay Roach.