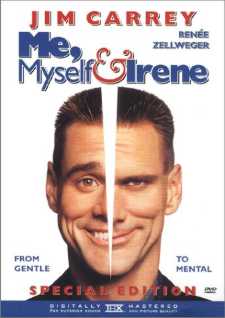 Me, Myself and Irene
Jim's Carreying On Once Again
by Johnny Bray
There's something about a cop with a chicken up his ass that just seems right.
That's just one of the many "shocking" jokes that make up Me, Myself, and Irene, the latest from the Farrelly Brothers.
Charlie Baileygates (Jim Carrey) was the nicest man in the world before, and even after, his wife left him. For years he raised his sons, teaching them the ways of the world, without letting anything get to him. Even as a policeman, people would just walk all over him.
But then one day he snapped.
On that day, Hank was born. Hank is Charlie's other personality, and also his exact opposite. He has a filthy mouth, a bad attitude, and a short fuse. Hank does all the things Charlie would never do, like hold a little girl's head underwater, and crash a car through the front of a shop.
One day he meets Irene, a sweet young gal from another state who is brought into the police station for a parking violation. He falls in love at first sight, and volunteers to help her get back home.
Unfortunately, Irene's not-as-sweet boyfriend is trying to kill her. To make matters worse, he has everyone, even the FBI, on his side. Charlie becomes a wanted criminal, so he must wage war with the crooked cops - and especially with himself - in order to clear his name and keep Irene alive.
Most of the funniest scenes are with Carrey interacting with himself as two characters. There are few actors who could pull off such a stunt, but Carrey is definitely one of them. You can never get tired of watching him work his magic.
Another funny scene involves a cow they encounter on the highway. The poor animal has been left for dead, so Charlie takes it upon himself to put it out of its misery. But the damn thing just won't die. I have no idea why it's funny, but it is. It's even referenced in a later line, which makes it even funnier. Charlie's sons steal every scene they're in, which is a very pleasant surprise.
The Farrelly Brothers are good when they're good; Kingpin is one of the funniest movies made in a long time. However, when they made There's Something About Mary, I feared they'd lost it. Me, Myself and Irene is much better than Mary, and there's not much else I can say. It's by no means a cinematic masterpiece, but it does make you laugh.
Isn't that the point of a comedy?
The anamorphic widescreen DVD's picture quality is fantastic, and the sound appears to be just as well done. It has the usual anamorphic widescreen and dolby digital 5.1 surround.
There are a few extras, but not enough to really call this a "Special Edition." You get a commentary by Bobby and Peter Farrelly, deleted scenes with optional commentary, production vignettes, and a Foo Fighters music video. The video is pretty funny itself, though the song is not really that great.
Me, Myself and Irene, from 20th Century Fox Home Video
116 minutes, anamorphic widescreen (1.85:1), 16X9 compatible, dolby digital 5.1
Starring Jim Carrey, Renee Zellweger, Chris Cooper, Robert Forster, and Richard Jenkins
Produced by Bradley Thomas & Bobby Farrelly & Peter Farrelly
Written by Peter Farrelly & Mike Cerrone & Bobby Farrelly
Directed by Bobby Farrelly and Peter Farrelly