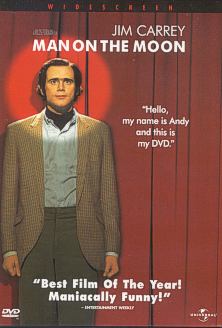 "Man on the Moon" on DVD
Getting Carrey'd Away
Jim Carrey proves once again that he's more than just a funny face in Milos Forman's biopic about the life of Andy Kaufman.
"Man on the Moon" is a terrific vehicle for Carrey, whose performance is bang on throughout the film. There are many times you forget it's the same Jim Carrey here as it was in "Ace Ventura" and the other lowbrow films in which he's starred.
Forman's film, just like Kaufman's career, is very different. From the opening monologue and simulated "closing credits crawl," the movie gives a very sympathetic view of Kaufman's life and death, exposing the person behind the hype.
Not content to be merely a traditional comedian, according to Forman's portrayal, Kaufman wanted to shake things up, to mess with people's heads. And he succeeded so well that he in effect lost any credibility he may have earned, to the point where people could never trust or believe anything he said or did.
Anyone who only knows of Kaufman through "Taxi" or media reports is in for a surprise to find out just how broadly his brush painted. From little "mind games" like building into his TV special a vertical hold flaw designed to make the audience get out of their chairs to see what was wrong with their TV sets to extravagant pranks like his wrestling schtick, Kaufman wanted to - and succeeded at - keep the world a little off balance.
There are some good bits here, as well as some wonderful filmmaking in Forman's tradition. But despite the strong cast (including many uncredited performances by Kaufman's peers appearing as themselves) it's Carrey's movie all the way. And that's fine.
The supporting cast includes Danny DeVito (who also produced) as Kaufman's manager, Courtney Love as his girlfriend, and Paul Giamatti as his best friend/co-conspirator.
Whether you liked Andy Kaufman or not (the only Kaufman bit this reviewer had ever liked before this movie was his "Mighty Mouse" lip sync), "Man on the Moon" is a good movie and a worthwhile view - just like any Milos Forman film.
The DVD is presented in widescreen and features Dolby Digital and DTS soundtracks on the same disc. The audio and video (we used the Dolby Digital tracks in our viewing) quality are superb. There is also plenty of extras, from a decent "Spotlight on Location" feature to a feature on Kaufman himself that includes some live performances. You also get deleted scenes (some of which we would have liked to see included in the final film), a couple of REM music videos, DVD ROM features, and the trailer.
Man on the Moon, from Universal Home Video
119 minutes, Widescreen (2.35:1), Dolby Digital and DTS
Starring Jim Carrey, Danny DeVito, Courtney Love
Produced by Danny DeVito, Michael Shamberg, Stacey Sher, Written by Scott Alexander & Larry Karaszewski
Directed by Milos Forman