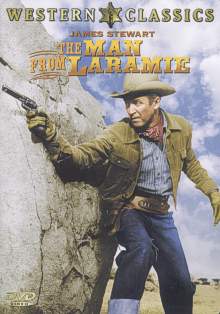 "The Man From Laramie" on DVD
Stewart's the Man
Anthony Mann's "The Man from Laramie" was the last of his eight collaborations with James Stewart and, if he wanted their relationship to go out with a bang, he chose a good vehicle with which to do it.
"Laramie" is a gritty and realistic drama in which Stewart shows up heading a team of supply wagons - ostensibly a front for his mission to find the person responsible for his brother's death.
He finds himself stuck between a rock and a hard place as he gets caught up in the midst of local politics the likes of which he probably hasn't seen before. To top it off, he runs afoul of the Big Dude Rancher's spoiled brat of a kid, who takes it upon himself to make his life miserable.
This is definitely not your "bad guy in black, good guy in white" oater. Sure, there are some bad dudes here, but most of the obvious villains aren't really villains (not that they're saints, either, of course) and just about everyone has logical motivation for their actions.
Stewart doesn't play his usual easygoing nice guy, either. His character has a definite edge, though he's still a decent and honest person. Heroic he his, however, and a couple of scenes in which he gets assaulted are powerful and make you feel his suffering with him.
Joining Stewart are Arthur Kennedy in a fine portrayal of a ranch foreman caught between his sense of duty and his sense of decency, Donald Crisp as the Big Dude rancher, and Alex Nicol as his snot-nosed brat. All of the cast members give fine performances.
It's also interesting to see Cathy O'Donnell, an actress who a few years later would become part of Hollywood legend as Charlton Heston's sister in William Wyler's masterpiece "Ben-Hur."
"The Man from Laramie," the screenplay of which was based on a Saturday Evening Post story, was beautifully filmed on locations in New Mexico and, according to the liner notes, was one of the first Westerns to partake of CinemaScope. Good thing, too; the widescreen film has a truly epic look and feel the type of which only a big, widescreen production can give.
The DVD offers widescreen and Pan&Scan versions, but we highly recommend the widescreen (okay, we always recommend the original aspect ratio) because it does far more justice to the film's epic feel and the composition of the shots.
The digitally mastered picture quality is first rate, and we were also impressed with the digitally mastered audio. It's in "Dolby Digital 4.0" and, though we aren't exactly sure what that's supposed to mean, it gives you a lovely audio experience in which the dialogue and action come from the center speaker while the sweeping musical score fills the room from the main stereo speakers. There's also good use of stereo for moving objects/characters on screen.
This is standard stuff, today, but it's wonderful to find a 1955-vintage film making such great use of audio's potential.
You don't get a lot of extras, just the theatrical trailer, chapter stops, and a decent liner essay inside the box. Still, it's nice to see legitimate classics like this seeing the light of day again, and being done "video justice" by the studios releasing them.
The Man From Laramie, from Columbia Tristar Home Video
104 minutes, Widescreen (2.35:1)Pan&Scan, Dolby Digital
Starring James Stewart, Arthur Kennedy, Donald Crisp, Cathy O'Donnell, Alex Nichol, Aline MacMahon with Wallace Ford
Produced by William Goetz, Screenplay by Philip Yordan and Frank Burt
Directed by Anthony Mann