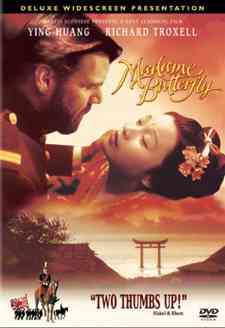 Madame Butterfly on DVD
French Director Frédéric Mitterrand has created a beautiful and moving film version of Puccini's classic opera about a young and trusting Japanese woman done wrong by an American sailor.
Butterfly (beautifully played and sung by Ying Huang) is a geisha who falls in love with the abovementioned Lt. Pinkerton (Richard Troxell). She gives up everything to be his wife, including her family and her religion, and this makes her an outcast among her own people. But that's okay; she's in love.
Unfortunately, Pinkerton is looking more for an amorous adventure than a real wife and goes through the motions because that's the best way for him to win the trusting Butterfly.
He's warned by the US Consul (Richard Cowan) that Butterfly is taking the relationship very seriously, but the young and impetuous Pinkerton goes ahead anyway not realizing the consequences his actions could have.
Flash forward three years and Butterfly waits for her love's return. Pinkerton has been gone all this time, the life of a sailor being what it is, and in the meantime Butterfly has turned down various suitors, preferring to believe beyond hope that she hasn't really been abandoned and that her man will come back to her.
Eventually he does, of course, but not in the way Butterfly had hoped.
We've seen Madame Butterfly performed on stage and while it's an excellent opera in that medium it really shines in this movie version. The intimacy of film means you can get close to the characters, and you really come to feel for them.
You feel most for the unfortunate Butterfly, of course, and Ying Huang is wonderful in the role. She's pretty, exudes class, and her singing voice is well matched to the material at hand.
Ditto for Troxell's Pinkerton. The guy's a cad, of course, not because he's evil but because he's young and he never really pays close attention to what's happening around him. When he finally realizes the consequences of his actions he's devastated but of course by then it's too late.
Cowan also does a good job as Sharpless the Consul, a man caught between his duty and his humanity, between his loyalty and responsibility to US citizens and his love and respect for the Japanese among whom he lives. And Ning Liang brings to life the loyalty and heartbreak of Butterfly's servant and friend Suzuki.
The production values are first rate, leaving us with a lush looking movie with a very believable setting. Mitterrand's direction is also wonderful, and by the end of the movie you're as heartbroken as Butterfly and Suzuki - a real tear jerker.
The overall feel brings to mind TLC, as in the film received tender loving care from the producers and player and this obvious respect for the source material makes it right through onto the screen.
The DVD looks great, with beautiful colors and a sharp image quality. The picture is presented in anamorphic widescreen video (16x9 TV compatible) with Dolby Pro Logic audio. The sound quality is very good as well, which is a great help to the singing and the orchestrations. Our only complaint is that we would have liked the orchestra to have been a touch louder, but this may have been a deliberate choice on the part of the filmmakers.
Extras are limited to a pretty good "making of" featurette, and you'll probably be glad of the subtitles since the movie is sung in its original Italian.
Madame Butterfly, from Columbia Tristar Home Video
133 min. anamorphic widescreen (1.85:1), 16x9 TV compatible, Dolby Pro Logic
Starring Ying Huang and Richard Troxell
Produced by Pierre-Olivier Bardet, Daniel Toscan du Plantier
Music by Giacomo Puccini, Written by Giuseppe Giacosa (libretto) Luigi Illica (libretto) Frédéric Mitterrand, Directed by Frédéric Mitterrand.