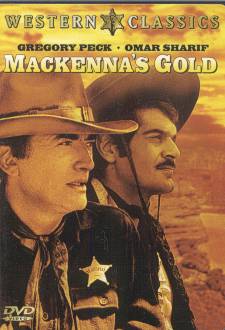 "Mackenna's Gold" on DVD
From the team that brought you "The Guns of Navarone" comes "Mackenna's Gold," an epic Western about the search for a hoard of legendary Indian gold.
Gregory Peck is Sam Mackenna, a federal Marshall who comes into possession of the only map showing where the famed canyon that hides the Apache treasure is. He destroys the map, after memorizing it, but is captured by outlaw John Colorado (Omar Sharif) and his gang and forced to take them to the "mother lode."
Mackenna says he's been to the mystery canyon before and insists there's no gold there, but Colorado and his cronies have gold fever and aren't about to listen to reason.
The situation is exacerbated by the arrival, and teaming up, of a group of "civilians" from the town of Hadleyburg (a "Who's Who" of crusty old pros including Burgess Meredith, Lee J. Cobb, Raymond Massey, Anthony Quayle, Edward G. Robinson, and Eli Wallach).
Fortunately for Mackenna, the civilians and a good part of Colorado's band all get killed, which brings the odds a little more down to earth for the Marshall.
The trip to find the canyon takes them through some pretty spectacular scenery, including a couple of shots that are obvious matte paintings. When they eventually find the lost valley, it turns out that Mackenna was either misinformed or lying - 'cause the gold's there as advertised.
The Apaches, whose gold it is, aren't about to sit idly by while it gets ransacked, however, and they arrive on the scene to prevent Mackenna and Colorado from pulling off their "heist."
The movie means well, and succeeds for the most part, but there are some bizarre shots and strange scenes that seem out of place in the story. A special effects-laden finale also seems out of place, and it comes after Mackenna and Colorado climb a tall cliff to an ancient Apache settlement - then climb back down again right away. Why'd they go up there in the first place, except to add some height (or is it depth?) to their fist fight?
The cast is great, as would be expected by such a team and you can almost overlook the plot's occasional silliness in favor of the movie's good points.
The DVD comes in widescreen and Pan&Scan on opposite sides, though the Pan&Scan version is presented in widescreen through the opening credits. The digitally mastered anamorphic video and Dolby Digital 5.0 channel audio are first rate.
Extras include a theatrical poster, a liner essay, production notes, talent files and trailers.
Mackenna's Gold tries to be an epic, but it doesn't quite succeed. Still, it's at worst a couple of hours worth of aimless thrills in the home theater.
Mackenna's Gold, from Columbia Tristar Home Video
123 minutes, Widescreen (2.35:1)/Pan&Scan, Dolby Digital 5.0
Starring Gregory Peck, Omar Sharif, Telly Savalas, Julie Newmar, Camilla Sparv
Produced by Carl Foreman and Dimitri Tiomkin
Written by Carl Foreman, Directed by J. Lee Thompson