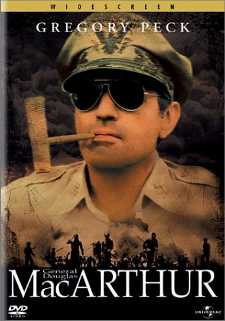 Macarthur on DVD
He Does Return!
Gregory Peck has the title role in this biopic written by the team that would later bring "Dragonslayer" to the screen.
Peck is outstanding as General Douglas Macarthur, US military legend of the Second World and Korean wars. He's backed up by excellent production values, an involving script, and a fantastic supporting cast.
The first two thirds of the movie deal with his exploits in the Pacific from the aftermath of Pearl Harbor to his acceptance of the Japanese surrender after Hiroshima and Nagasaki. He oversees the transformation of Japanese society from feudal warlord to modern democracy, and begins harboring political ambitions for back home.
Then he goes to Korea to clean up the mess unfolding there, but in the process runs afoul of President Truman (Ed Flanders, in a terrific portrayal) and is fired.
Macarthur is portrayed as a principled, larger than life character who's also a military genius, and whose ego runs him afoul of his political masters at times. He's usually right though, at least according to the movie's portrayal.
Besides Flanders as Truman, Dan O'Herlihy gives an outstanding performance as FDR, and it's neat to see a collection of journeyman actors like Kenneth Tobey and Dick O'Neill (among many others) along for support.
The military action isn't sugarcoated, nor is it as graphic as in films like "Saving Private Ryan," so it strikes a nice balance. In the end, Macarthur is an engrossing look at a person and period in US military history that's even more important to know about in the wake of the September 11, 2001 terrorist attacks that set off the first war of the 21st century.
The DVD is presented in anamorphic widescreen, 16x9 TV compatible, with Dolby Digital 2.0 mono sound. The quality of the video and audio is very good. Extras are pretty limited: you get some interesting production notes and cast/filmmaker info as well as the trailer.
On the whole, however, this is a DVD that is well worth seeing, not only for history buffs but for Peck fans and anyone who enjoys an intelligent, well made movie.
Macarthur, from Universal Home Video
130 min. anamorphic video (1.85:1), 16x9 TV compatible, Dolby Digital 2.0 mono
Starring Gregory Peck, Ed Flanders, Dan O'Herlihy
Produced by Richard D. Zanuck and David Brown
Written by Hal Barwood and Matthew Robbins, Directed by Joseph Sargent.