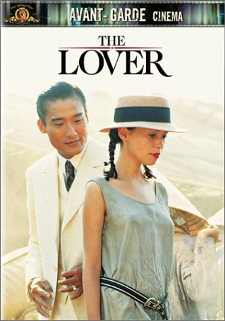 The Lover on DVD
the Director of "The Bare?"
Jean-Jacques Annaud has brought us films like "The Bear," "Quest for Fire," and "Enemy at the Gates." Each of these are beautifully shot and compelling stories.
Then there's The Lover, an unbelievably artsy fartsy attempt at cinema erotica that borders on pornographic. But it's beautifully shot, and fairly compelling in an extremely self indulgent way.
It's the story of a fifteen and a half year old girl (Jane March) who enters into an ongoing affair with a rich Chinese man (Tony Leung), a star-and-race -crossed relationship that could bet them both into a pile of trouble if it became known. They meet regularly at his bachelor room, where director Arnaud stages some sexual encounters that are so explicit in this Unrated DVD (which supposedly contains an extra ten minutes than the "rated" version) that one wonders if the actors are merely simulating or really stimulating.
Rumors get out about the affair, naturally, and this leads to the predictable culture and morality clash. In the end, the Chinaman goes ahead with his arranged marriage and the young girl heads back to France as planned.
Kind of a "coming of age" movie (with the emphasis on coming) The Lover is the type of art film that garners all sorts of praise from the usual elites. And it is gloriously, though darkly, shot on location in Vietnam.
But, unlike the quote on the box, from James Grant of Scene at the movies, it is definitely NOT one of the best films of the decade, unless perhaps you like going to the theater accompanied by an inflatable doll.
Still, March and Leung are both very good in their roles, March particularly as the innocent who grows into a wannabe-whore and is proud of it.
The DVD is pretty good, for the most part. It's presented in anamorphic widescreen, 16x9 TV compatible, at the 1.85:1 aspect ratio that completely fills the 16x9 TV's screen. The picture is in places gorgeous, especially in the close-ups (and needless to say the flesh tones come through very well!), yet in other places it's very grainy. On the whole, we'd have to say it's about average for a DVD.
English and French audio is supposedly Dolby Digital 2.0 channel stereo surround, and it's balanced very well with all the sounds that should emanate from the center front speaker very well placed. There isn't a lot of surround, though we detected a little bit periodically, mostly in rain storm sounds. But surround effects are few and far between so don't look at this disc as an audio extravaganza.
Extras on the disc include a couple of the usual "cinema facts" MGM likes to put on the back of its DVD cases, as well as the original theatrical trailer. Subtitles choices are French and Spanish.
The Lover from MGM Home Video
115 min. anamorphic widescreen (1.85:1), 16x9 TV compatible, Dolby Digital 2.0 channel stereo Surround
Starring Jane March, Tony Leung, narrated by Jeanne Moreau
Produced by Claude Berri , Jacques Tronel,
Written by Jean-Jacques Annaud, Gérard Brach, Directed by Jean-Jacques Annaud.