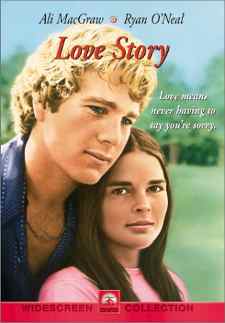 "Love Story" on DVD
Good Old fashioned Schmaltz
Erich Segal's mercifully short novel is translated faithfully to the movies and, despite the syrup, it works in both media.
Ryan O'Neal is Oliver, a Harvard law student and hockey player from a rich family who falls in love with the financially-challenged and sharp-lipped Jenny (Ali MacGraw). Actually, they fall in love with each other, deeply and forever, to the point where Oliver defies his father in order to marry the girl of his dreams.
Jennifer's father isn't particularly enamored with the marriage, either, but parents must step aside and let their kids make their own foolish mistakes.
So Oliver and Jennifer do get married and start what they believe will be a long and happy life together, only to have it end tragically in a manner that'll eat up all the kleenexes (kleenices?) you may have on hand.
There's nothing particularly new or surprising about the movie, and even its ending is telegraphed from the very opening, but it doesn't seem to matter. This movie is about love, and love (and Hollywood) can be highly illogical as often as not.
O'Neal is good as Oliver, but MacGraw upstages him with her in your face upstart freshness. Marley and Ray Milland also turn in very good performances as the lovers' fathers. Director Arthur Hiller does a pretty good job with what in less deft hands could be a terminally sappy film, and for that he deserves credit.
The DVD is presented in anamorphic widescreen, 16x9 TV compatible, and the audio is in Dolby Digital mono. Audio and video quality are fine. Extras include a running commentary by director Hiller and a new documentary "A Classic Remembered."
Love Story, from Paramount Home Video
100 min. widescreen (.85:1), 16x9 compatible, Dolby Digital mono
Starring Ryan O'Neal, Ali MacGraw, Ray Milland, John Marley
Produced by Howard G. Minsky
Written by Erich Segal, Directed by Arthur Hiller.