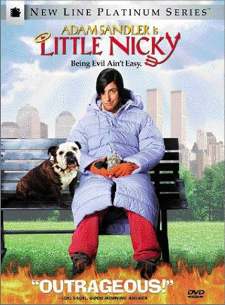 Little Nicky on DVD
The Hell, you Say?
Despite Adam Sandler being the spawn of the devil (at least in this movie!), his character is actually a pretty decent guy. Not only that but, as with the best of Sandler's movies, he's a little less than ordinary guy, immature, who's forced to grow up - and grow - over the course of the film in order to reach his goal. The goal this time is restoring the balance between good and evil to the universe, which is a little bit more of a challenge than Sandler has faced before.
Nicky is sent to earth by his father (Harvey Keitel) to retrieve his brothers (Rhys Ifans and Tommy "Tiny" Lister, Jr.), who are in New York City wreaking havoc, determined to create a hell on earth over which they can rule.
Satan's actually a pretty decent chap and he has no pretensions to dominate All There Is; he understands the need for balance (we discover a possible reason why later in the film when we meet Nicky's mother, played to the hilt by Reese Witherspoon), and that that need transcends all.
So Nicky is thrown into the middle of the battle between good, a part played this time by the devil, and evil - his brothers, who aspire to "greatness."
Nicky makes plenty of mistakes, but along the way he discovers the joys of human life and love (his love interest is well-played by Patricia Arquette); he makes friends and does good, even while using his powers of darkness.
The plot's actually pretty decent and, though we didn't laugh out loud a lot, there are plenty of chuckles. There is also an abundance of terrific special effects, including a talking dog/mentor who very nearly steals the show.
Sandler is, well, Sandler, and that isn't a bad thing. Keitel is wonderful as the devil - and if his character isn't bizarre enough as a devil, wait till you see Rodney Dangerfield as His father. The rest of the supporting cast plays their roles to the hilt, chewing the scenery where appropriate and just being downright silly where that's appropriate. Players include Jon Lovitz, Kevin Nealon, Michael McKean, Henry Winkler, Ozzy Osbourne and many more.
The quality of the Dolby Digital audio and anamorphic video (enhanced for 16x9 TV's) on this widescreen DVD are outstanding, which makes it a wonderful showcase for all the digital special effects. Not only that, but this Platinum Series DVD also contains enough extras to keep Sandler fans happy for many hours.
You get deleted scenes, a couple of feature length commentaries (one with Sandler, director Brill, and Co-Writer Tim Herlihy and another featuring various cast members). There's also a behind the scenes documentary that's well worth a look, interviews with some heavy metal rock icons like Osbourne, Gene Simmons and Ronnie James Dio, a music video, cast/crew filmographies, trailer, and a series of DVD ROM features.
Little Nicky, from New Line Home Entertainment
84 min, widescreen (1.85:1) enhanced for 16x9 TV's, Dolby Digital 5.1
Starring Adam Sandler, Patricia Arquette, Harvey Keitel, Rhys Ifans, Tommy "Tiny" Lister Jr. and Rodney Dangerfield
Produced by Robert Simonds and Jack Giarraputo
Written by Tim Herlihy & Adam Sandler & Steven Brill, Directed by Steven Brill.