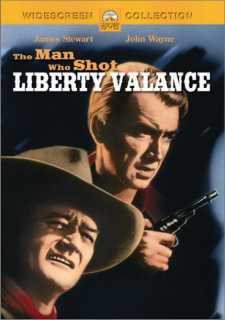 "The Man Who Shot Liberty Valance" on DVD
Classic Western
This is not your average Western!
James Stewart plays Ransom Stoddard, Attorney-At-Law, a wet behind the ears dude who follows Horace Greely's advice to "Go West, Young Man" and heads to the town of Shinbone to hang out his shingle.
Before he gets there the stagecoach on which he's riding is attacked by Liberty Valance (Lee Marvin) and his gang and Stoddard is beaten up and given his first lesson in the law of the jungle that prevailed in the territory at that time. Once in Shinbone he's befriended by most of the locals, including the lovely Miss Hallie (Vera Miles) who just happens to be the girlfriend of rugged Tom Doniphon (John Wayne), the only man who seems able to stand up to the vicious thug Valance.
Shinbone is a town virtually under siege thanks to Liberty Valance - and the fact that the town's Marshall (Andy Devine) is a fat weakling who's easily cowed. Then along comes Stoddard, a man with principle and character who refuses to be cowed by the area bully even though it looks as though it will cost him his life.
Despite the building romantic triangle between Stoddard, Hallie, and Doniphon, the two men form an unlikely bond that leads to one of them becoming The Man Who Shot Liberty Valance.
Most of the film unfolds as a flashback after now-Senator Stoddard and his wife Hallie return to Shinbone to pay their last respects to Doniphon. A lot has happened since the events that most of the film recounts, including the legend that has built up about Senator Stoddard.
This movie has everything. There's action, romance, politics, morality, social commentary, some wonderful and well-deserved shots at a media that doesn't appear to have changed too much since the days in which this film is set, terrific performances from a superb cast, a fabulous screenplay, and the direction of the great John Ford.
The most outstanding performances come from Stewart, Miles, and Edmond O'Brien as Dutton Peabody, Editor of the Shinbone Star newspaper, though there are excellent performances throughout thanks to such now famous character actors as Lee van Cleef, Strother Martin, Ken Murray, John Carradine, Jeanette Nolan, John Qualen, Woody Strode and Denver Pyle. Wayne also gives one of his best performances, and Marvin is also appropriately menacing as the slimy bully Valance.
The DVD is presented in its original black and white, with anamorphic widescreen video, 16x9 TV compatible, and the picture quality is excellent. The audio is offered either in restored mono, which sounds very good, or Dolby Digital 5.1. The latter also sounds good and it adds some nice stereo perspective to the action on screen, though there isn't much in the way of surround. This doesn't matter in the grand scheme of things, though.
There are really no extras of which to speak, which is a shame. A film this good deserves to have received a deluxe treatment.
One thing we found surprising: nowhere does the famous Gene Pitney song appear! We can only assume 'twas like this originally, too, because there's no hole where it seems to be missing - despite the mention of it in the film's trailer.
The Man Who Shot Liberty Valance, from Paramount Home Video
123 min. black and white, anamorphic widescreen (1.85:1), 16x9 compatible, Dolby Digital 5.1
Starring James Stewart, John Wayne, Vera Miles, Lee Marvin, Edmond O'Brien, Andy Devine, Ken Murray
Produced by Willis Goldbeck
Written by James Warner Bellah and Willis Goldbeck, Directed by John Ford