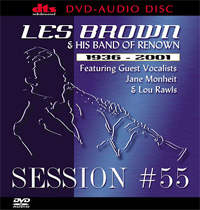 Les Brown and his Band of Renown
1936-2001
Session #55
If you're a big band fan, and want to hear it with the best audio fidelity possible, this disc could be for you.
Les Brown and his Band of Renown have been around forever, and thanks to dts, they've never sounded better unless you've been sitting in the audience front row center. And because it's the DVD-Audio format, you can listen to it with any DVD player; you may not get the full "audio excellence" of the DVD-A format, or even dts, but it still sounds terrific.
We have to admit that, while we like big band, we haven't been as familiar with Les Brown et al as we'd have liked. We've long been Glenn Miller fans, as well as the Duke and others, so it was nice to have the opportunity to expand our big band experience - especially with a high res audio perspective.
And we weren't disappointed. This is a wonderful collection of tunes, masterfully played and with recording quality that is to die for. We thought the DVD-A track was the best, followed by the dts and Dolby Digital. None of them are slouches, however.
Audio choices consist of uncompressed MLP 48khz/24-bit DVD-Audio MLP track, dts 5.1 and Dolby Digital 2.0 tracks for DVD-Video player compatibility. In DVD-A is the best; the fullness collapses somewhat in dts - and the Dolby Digital 2.0 option is "for emergency use only" (for those who don't have the audio hardware but who still want a good listening experience).
The sound mix is very well done. Most of what you hear comes from the front, as if you're at a concert, with some supporting players highlighted from the rear speakers, and some reverby bits also emanate from the rear. So while it is a surround mix, it isn't gimmicky and they don't beat you over the head with it.
Vocals, bass, and percussion fill the soundstage at the front of the room, while the brass are spread more widely through the room, though with a front bias. The disc's dynamics are outstanding, and the disc cries out to be played loudly as you'd play a rock album - try it, you'll like it!
The main vocals, featuring Low Rawls and Jane Monheit, sound natural and convincing, and the whole shebang combines to create a musical experience that envelops you most rewardlingly.
The DVD also comes with a good booklet, including a note from Les Brown, Jr. about the sound mix and his father's career. You also get a photo gallery.
dts is doing a good job, overall, of providing great multichannel discs that exploit the new audio formats very well. This particular disc is a classy addition to the line and we especially appreciate the embracing of the DVD-Audio format and hope dts will do this increasingly since we think it's the best of the new formats, offering wonderful sonic opportunities with the most flexible playback options.

1.Floatin'
2. Secret Love
3. I'm Forever Blowing Bubbles
4. Drop Me Off In Harlem
5. Aint She Sweet
6. They Can't Take That Away From Me
7. If Dreams Comes True
8. Mood Indigo
9. It Could Happen to You
10. I Only Have Eyes For You
11. Bizet Has His Day
12. A String Of Pearls
13. Sentimental Journey
14. Undecided
15. That Old Black Magic
16. Satin Doll
17. Dansero
18. Yo Henry
19. Tenderly
20. Old Man River
21. Leap Frog
Genre: Jazz Label: DTS Entertainment 5.1 Producer: Les Brown Jr. and Al Schmitt 5.1 Mixed by: Al Schmitt UPC: 692860106796