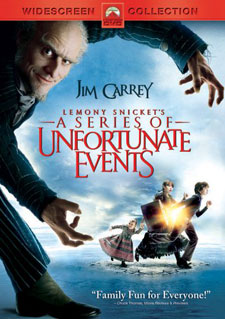 Lemony Snicket's A Series of Unfortunate Events on DVD
Take a pinch of Tim Burton and blend it with a dose of Charles Addams, mix well and add a dash of its own creativity and you get the idea of what Lemony Snicket's A Series of Unfortunate Events is all about.
It's a kids story adults can also get off on, but as you learn in the opening segment, this is not a sweetness and light story. Rather, it's a tale of three resourceful orphans and their trials and tribulations as they try to get on with their lives while thwarting the plans of their wicked, greedy relative Count Olaf (well played by Jim Carrey). Count Olaf wants the family fortune and will go to any length to get it.
Therefore, he puts them through – or helps cause them to go through, as the title suggests, a series of unfortunate events. As they bounce from (or perhaps, escape from would b a better word) long lost relatives, they met a snaky uncle (Billy Connolly), an anxious and weird aunt who's afraid of practically everything (Meryl Streep), and some just plain weird events and situations.
The movie looks terrific, thanks to tremendous art direction, costumes, and cinematography, and the performances are all first rate. Yet there's something missing and we can't really put our finger on it.
One thing that did get in the way of our suspension of disbelief was a short and unnecessary cameo by Dustin Hoffman, who shows up to give a couple of wisecracks and then isn't seen again.
"Lemony" seems a little like The Nightmare Before Christmas, with a bit of Charlie and the Chocolate Factory and even Chitty Chitty Bang Bang thrown in for good measure. But it's its own movie, an interesting and creative flick that looks and sounds great and it's well worth a look.
The DVD is fully featured, though you'll have to choose between widescreen and Pan&Scan versions, since the disc is being sold separately in either version. Fortunately, we received (eventually), the 16x9 widescreen version and the picture quality is truly wonderful. The colors are rich (well, as rich as allowed by the rather dark art direction) and clean and the picture is sharp and bright and eminently watchable.
Audio is Dolby Digital 5.1 surround and it is also very good indeed.
Paramount really piles on the extras with this disc, too, to make it an even better value. First up is a running commentary by director Brad Silberling, and there's also another commentary featuring "Lemony Snicket" and director Silberling. "Bad Beginnings" gives you 3 featurettes ("Building a bad actor," Making the Beaudelaire Children Miserable," and "Interactive Olaf." And "Orphaned Scenes" gives you 11 deleted scenes and a selection of outtakes.
You also get some trailers.
We should mention that the closing credits are very interesting and entertaining, and you should wait until the "lesser names" names' start scrolling before stopping the disc.
Lemony Snicket's A Series of Unfortunate Events, from Paramount Home Entertainment
107 min. anamorphic widescreen (1.85:1, 16x9 TV compatible)/ Pan&Scan (sold separately), Dolby Digital 5.1 surround
Starring Jim Carrey, Jude Law, LiamAkien, Emily Browning, Catherine O'Hara, Meryl Streep, Billy Connolly
Produced by Laurie Macdonald, Walter F. Parkes, Jim Van Wyck,
Written by Robert Gordon, Directed by Brad Silberling