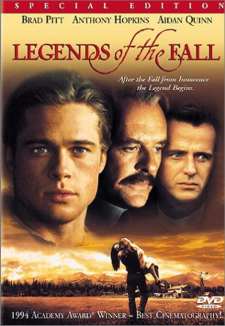 "Legends of the Fall" on DVD
Family's Values
Legends of the Fall starts off very well, then about half way through turns quite depressing and stays that way.
Still, it's hard not to like a film that has so much going for it: Hopkins, Pitt, love stories, battle scenes, and the beautiful Rocky Mountain foothills of southern Alberta (about thirty minutes from where this review is being written).
Okay, so the locations make us suckers for the movie; we admit it. We also bet you'll be suckers for it once you see the gorgeous, Oscar-winning cinematography that offers positively stunning views of "God's Country."
The movie itself follows the fortunes of the Ludlow family on their Montana ranch. Colonel William Ludlow (Hopkins) has retired to the foothills so he can bring up his boys (Brad Pitt, Aidan Quinn and Henry Thomas) safely away from "the madness" of mainstream civilization. All's well and good until young Samuel (Thomas) comes home with his new financee (Julia Ormond) - then promptly decides (much to the old man's chagrin) to go off and fight World War I.
Samuel and his brothers Alfred (Quinn) and Tristan (Pitt) head off together, with the brothers admonished by their father to ensure that Samuel stays safe.
Samuel doesn't stay safe, of course. He's killed in action, the manner of which inflicts deep emotional scars in the brothers, especially Tristan, that won't be healed for years.
Back home, both surviving brothers vie for the affections of Susannah (Ormond), causing the rift between them to get larger. It's healed toward the end of the film, but not before a lot of water flows under the bridge.
Pitt's Tristan is the real focus of the film, whether he's trying to keep Samuel from harm, traveling the world in an attempt to exorcize his demons, or back at home trying to support the family ranch by becoming a bootlegger.
The family has more than its share of trials and tribulations, and the movie ends up being quite a tear jerker. That isn't necessarily a bad thing, of course, but we have a soft spot for more uplifting fare.
Still, this Special Edition DVD is well worth a look. The story draws you in and there's plenty to keep your attention focused on events until the final credits.
The DVD itself is presented in widescreen, Dolby Digital 5.1, and the digitally mastered audio and anamorphic video quality are very, very good. We've already jabbered on about the beautiful look of the film, but we should also mention the terrific Dolby Digital surround audio, which is particularly effective during the battle and storm sequences.
Bonus features on the "Legends" DVD include a running commentary by director Edward Zwick and star Brad Pitt, as well as a separate commentary by production designer Lilly Kilvert. There's also a feature on the film's production design, a "making of" featurette, and three deleted scenes with director's commentary. You even get an isolated musical score track, as well as the usual talent files, trailers, etc.
Legends of the Fall, from Columbia Tristar Home Video
135 minutes, Widescreen (1.85:1), Dolby Digital
Starring Brad Pitt, Anthony Hopkins, Aidan Quinn, Julia Ormond, Henry Thomas
Produced by Edward Zwick, Bill Wittliff, Marshall Herskovitz
Written by Susan Shilliday and Bill Wittliff, Directed by Edward Zwick