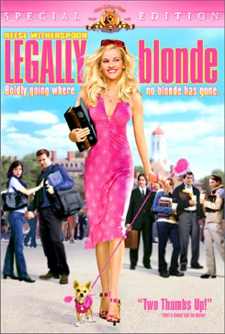 Legally Blonde
Reese Gets her Piece
Legally Blonde is the perfect movie for any blonde woman who's ever felt underappreciated because of her hair colour.
It's about Elle Woods (Reese Witherspoon), a stereotypical California girl who is dumped by her boyfriend (Matthew Davis) because he wants someone more "serious." He's on his way to Harvard, and needs a similar girl.
So Elle does what any person in a Hollywood movie would do: she enrolls in Harvard in order to win him back.
Unfortunately for her, by the time she gets there, Warner (Davis) is already engaged to a snotty Harvard girl, Vivian (Selma Blair). She's not able to see Elle for what she really is, and naturally, hates her right away.
What starts off as a good fish-out-of-water story, turns into a full-fledged girl power movie. It still has entertaining bits, but it goes too far out of its way to shove it in our faces that not all blondes are in the league of the ones we joke about. And of course, Elle ends up saving the world (well, not quite) and is loved by everyone (also not quite).
If it weren't for Witherspoon's lovable, perky portrayal of Elle, it wouldn't be nearly as entertaining. There are also some excellent supporting performances by Davis, Luke Wilson, and Victor Garber.
When it all comes down to it, Legally Blonde is entertaining in a guilty pleasurish sort of way. You can't help but love Elle and want her to triumph, and there are some humorous moments to keep you entertained.
If you're sick of all the blonde jokes, or are one yourself (a blonde, not a joke), then Legally Blonde will probably be very appealing to you.
MGM can really release a great DVD when they want to. Their special editions are top-notch, and rival the quality of discs by New Line and Fox. The Legally Blonde special edition is presented on two sides of one disc. Side One features the widescreen and full screen version of the film, while side two harbors the special features.
The picture (either in 2.35:1 anamorphic widescreen or 1.33:1 Pan&Scan) is very nice. It's crisp and clear, and the bright colors (usually related to Elle in some way) are appropriately brilliant, but not blinding. The 5.1 Dolby Digital is equally impressive, though this kind of film doesn't really make great use of it. Still, it's there and you can tell it's good.
Side One also features two separate commentary tracks by director Robert Luketic, Reese Witherspoon, Marc Platt and the film crew. Most are bland, but Witherspoon brings her perkiness to the commentary as well, and it ends up being fairly entertaining as a result.
Side Two starts with two featurettes. The first, titled "Inside Legally Blonde," is a very informative look at how the film came to be. It has interviews with the cast, the director, screenwriters, and even Amanda Brown, the woman who wrote the original novel. Next up is a much less interesting featurette called "The Hair That Ate Hollywood." It's exactly as it sounds. There are a few deleted scenes, all of which were rightfully cut (all but one of them feature an introduction by the director), a music video for "Perfect Day" by Hoku, and the theatrical trailer.
Once again, a very nice special edition by MGM.
Legally Blonde, from MGM Home Entertainment
96 minutes, anamorphic widescreen (2.35:1) 16X9 enhanced, or 1.33:1 standard, 5.1 Dolby Digital
Starring Reese Witherspoon, Luke Wilson, Selma Blair, Matthew Davis, Victor Garber, Jennifer Coolidge and Raquel Welch
Produced by Marc Platt, Ric Kidney
Screenplay by Karen McCullah Lutz & Kirsten Smith
Directed by Robert Luketic