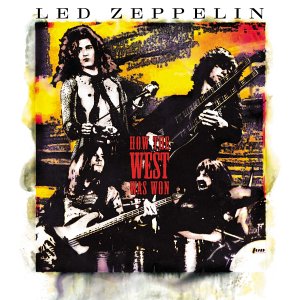 Led Zeppelin – How the West Was Won – on DVD Audio
Zep's "Leeds"
The first thing I wanted to do after playing this disc was to throw away my DVD of "Song Remains the Same."
That's because "Song" was enough to turn one off of Led Zeppelin, and that's a shame because "How the West Was Won" is a superb album. Musically, it can be mentioned in the same breath as the restored version of The Who's "Live at Leeds" – which is high praise indeed from this diehard Who fanatic.
And for that reason alone this disc is worth owning.
We've been casual Zep fans over the years, appreciating quite a bit of their studio recordings, but the only live experience we'd had was that horrible "Song" album and video named above. So we were a little anxious going into "West" that despite the hype about this album's quality, we'd discover that Zeppelin live wasn't all that we'd been led to believe.
But it was. This is, well these are (since the disc is taken from two concerts) recordings for the rock music ages. Jimmy Page is brilliant; the man's guitar work is masterful. Plant holds up his end beautifully as well, and Jones and Bonham are also at the top of their game.
The only real problem is the recording. It's good but, though we haven't heard "Leeds" in DVD-Audio (that's a hint, Pete), we don't think "West" rises to its level of success in capturing what must have been a very difficult combination of raw power and finesse to record back in the early 1970's.
While we were there to hear Page, we think we hear him a bit too much in relation to the rest of the band. They have made some neat, though ultimately artificial, use of the surround channels during some of Page's solos, with the sound of his axe jumping all over the room. During the 25 minute Dazed and Confused, for example.
In comparison, John Paul Jones' bass comes through very weak; his other instruments seem to get treated a little better, but while you never miss hearing Page (which is wonderful) the bass seems to disappear into the home theater's carpeting.
Bonham fares better, though the recording quality leaves something to be desired. They seem to have captured some mud as well as the skins.
But overall there's plenty of raw power on display here, and it plays really well loud.
The surround mix is for the most part used to put audience noise behind you, giving you an artificially induced seat in the middle of the fans. It works fine, and we're glad they chose not to use the surrounds to throw instruments at us for effects sake (As mentioned above, they do that a little bit, but where they've done it works, fortunately, even though we'd rather they hadn't).
Because of its more immersive experience, we liked the 5.1 mix better than the stereo one. The quality of both sounds about equal, except the stereo one sounds "flatter".
There's little in the way of extras here, but that didn't bother us. While we love to get as much stuff on a disc as possible, this particular example of live Zeppelin made us willing to eschew bonus material in favor of as much music as possible. And extras require disc space, so they can go.
You do get a photo gallery, which really just amounts to one picture for each track on the discs, and neither they nor the menus are designed for the widescreen television.
Our favorite tracks? Most of them. This is live rock at its best, or at least (remembering "Live at Leeds") second best.
DISC 1
L.A. Drone
Immigrant Song
Heartbreaker
Black Dog
Over The Hills And Far Away
Since I've Been Lovin' You
Stairway To Heaven
Going To California
That's The Way
Bron-Yr-Aur Stomp
Dazed And Confused
DISC 2
What Is And What Should Never Be
Dancing Days
Moby Dick
Whole Lotta Love
Rock And Roll
The Ocean
Bring It On Home