The Last Waltz, and a Lynyrd Skynyrd Double Feature on DVD
by Jim Bray
Two classic rock 'n' roll bands are preserved on DVD thanks to a couple of discs that do a good job of capturing the bands' respective moments in history.
Unfortunately, while one of the DVD's is an excellent use of the technology, the other appears to have been thrown together with very little conscious thought.
First of all, an admission: I've never been a huge fan of either band, though I like many of their individual songs. That said, I've never been against either of these bands, either, so I went into the reviews of these discs with an open mind.
Let's start with the more important of the two discs, at least as far as DVD technology is concerned.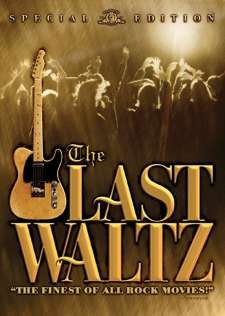 The Last Waltz captures The Band at the end of their days on the road. Directed by Martin Scorsese, it's considered by some to be the finest rock movie ever made.
I don't know about that, but it's damn good and MGM has done an excellent job of bringing this classic rock concert film to DVD with a wonderful special edition disc.
The Last Waltz was the name of a special "good-bye" concert Robbie Robertson and the Band wanted to hold at Bill Graham's (dubbed by Robertson "the P.T. Barnum of rock") Winterland in San Francisco. It was to celebrate the band and the era, which was coming to a close after sixteen years on the road - first as backup band to Ronnie Hawkins, then as backup band to Bob Dylan, and finally as headliners in their own right.
The concert soon grew into a full blown event featuring guest stars that were a cross section of the musical genres that influenced The Band - and it wasn't much of a logical stretch to decide it might be nice to record the event for posterity.
I won't get into all the details, because they're made more than clear several times over on the disc and in its supplementary material. Suffice it to say The Last Waltz is a movie based on that six hour event, and it does it fine justice.
I was a little disappointed that the movie was a blend of interviews and concert footage; not that I didn't appreciate the interviews (not being a real Band fan, I did appreciate learning more about these guys and their history), but I wanted to see more concert. But after going through all the extras I learned that the concert was a real marathon that taxed the recording technology to its limits, so the result is a "full length" movie that distills the best of what they managed to record.
They got some good stuff, too, some of which was restaged later on a sound stage (and which is some of the best footage - for instance a wonderful version of "The Weight" backed up by the Staple Singers). Most of The Band's most famous stuff is here, and they also show why they were such a great backup band by accompanying the plethora of guest stars performing music of their own. We get to see and hear Bob Dylan (probably the worst part of the movie), Eric Clapton (perhaps the best part), Neil Young, Joni Mitchell, Van Morrison, Neil Diamond (who seems a tad out of place), Emmylou Harris (a great, restaged version of "Evangeline"), Muddy Waters, The Staples, Ringo Starr (well, he and Ronnie Wood show up for a few seconds at the end and in a jam that's part of the supplementary materials), Dr. John, Paul Butterfield and Ronnie Hawkins.
The footage is great; Scorsese correctly virtually ignored the audience, concentrating instead on the music (the audience shows up in shots from the back of the stage, and you can certainly hear them, but they aren't dwelled upon) and the musicians - and it pays off.
So how's the disc? It's terrific. MGM offers us a remastered soundtrack available in either stereo surround or Dolby Digital 5.1. We preferred the latter soundtrack because of its more accurate placement of sounds. The audience sounds great, too, emanating as it does from all around you thanks to the surround speakers.
The quality of the sound is unbelievable, considering the 25 year old analog source. The guitars, vocals, drums and keyboards sound as if they were recorded yesterday; the bass is weaker, but not too much (bass guitar reproduction is a weakness on many discs). This is a remastering job of which the engineers can justifiably take a lot of pride.
Likewise the picture, which is presented in anamorphic widescreen (16x9 TV compatible). It fills the widescreen TV completely, and the picture also looks as if it were made yesterday (except for how young everyone looks!). Colors are bright and rich, the film-based picture is sharp and detailed, and it makes you glad Scorsese decided to go whole hog and shoot the concert in 35mm rather than the original concepts of video or 16mm.
Then there are the extras. First up are two running commentaries, the first featuring Robertson and Scorsese and the second featuring a whole whack of the people involved. They're both very interesting, though of course you can't hear the music very well over them.
There's also a 22 minute featurette that gives some excellent background behind the band and the show, photo gallery, a jam featuring members of The Band and many of their guest stars (with audio and video that isn't up to the standards of the main feature, unfortunately), and an 8 page booklet written by Robbie Robertson himself.
In all, an excellent DVD and a disc that belongs in the collection of every rock music fan.
The Last Waltz, from MGM Home Video
117 min. anamorphic widescreen (1.85:1), 16x9 TV compatible, Dolby Digital 5.1 surround
Starring The Band: Rick Danko, Levon Helm, Garth Hudson, Richard Manuel, Robbie Robertson, and many guest stars
Produced by Robbie Robertson
Directed by Martin Scorsese
Lynyrd Skynyrd Freebird the Movie & Tribute Tour DVD
If only I could say the same about the Lynyrd Skynyrd DVD! It's a double feature, and they're both well worth watching, but they leave a lot to be desired as DVD's.
Freebird, the movie is a collection of live numbers by the band, mostly from a British performance at Knebworth. It's interspersed with interview clips that give some pretty interesting insight into who and what Skynyrd was (and if you think they were just a bunch of hard drinking rednecks from the South you may be surprised).
The performances are very good, and you'll get to hear most of Skynyrd's hits. It's quite poignant to watch this band at the height of its popularity, then have the movie end with the story of how singer/songwriter Ronnie Van Zant and three other band members died with their charter plane ran out of fuel and crashed.
Unfortunately, the DVD is full frame, which means it has to be stretched and/or zoomed to fit the 16x9 TV. Now, I don't know if the original feature was shot in widescreen or not, so there may have been nothing that could be done about the aspect ratio.
But the picture quality is very soft, even fuzzy. It's obviously a low budget production and there appears to be no evidence of any TLC being lavished on the DVD.
Audio is Dolby Digital 2 channel stereo and it's okay at best.
You can say the same for the Tribute tour, though the source video is of much better quality than with Freebird.
The Tribute concert is a documentary of the reconstituted band's tribute tour some ten years after the fatal plane crash. We see older and wiser original band members and the new folks who replaced those lost in the crash - including Ronnie Van Zant's youngest brother Johnny.
Poignant in many places, triumphant in others, it's a wonderful look at this reunion tour through the eyes of the band and their families. You also get to hear most of the band's hits, and they still sound good.
Well, they sound okay. As with Freebird, there hasn't been a lot of attention put into assuring the Dolby Digital 2 channel audio quality - and once again the video is not anamorphic widescreen, so owners of 16x9 TV's will be disappointed.
The disc also suffers from a bizarre layout of its chapter stops. They seem to have been placed arbitrarily, almost as if they were programmed by someone who wasn't even watching the features!
This means that, if you want to access a particular musical number, you're out of luck. All you can do is fast forward to the next musical footage and then start playing it again from there, hoping you've found the song you want. They don't even list the songs or their order, just chapter stops with names like "The Real World," "Follow the History," "A New Skynyrd," and the like.
Sloppy, sloppy, sloppy.
I'd love to see these features done properly. As mentioned above, I was never a big Skynyrd fan (though I like their music), but I grew to respect them much more watching these features. Unfortunately, when faced with the choice between firing up my home theater for this Skynyrd disc or The Last Waltz, Skynyrd will lose every time.
And there are no extras.